WHAT
In this section of my site you will see a subset of this work, as there is a good amount that I cannot share since it is in development today. If you want to learn more just shoot me an email.
what does a design director do at IBM?
I am currently the Design Director of Watson for Financial Services. I have spent most of my career at IBM as a Director delivering Artificial Intelligence, either as standalone Products or Services. I also have experience in delivering Services in the Analytics and Data Storage spaces. One way to think about me is I deliver experiences for users in AI and Big Data. Allow me to clarify—I haven't been doing the actual Design or Research involved, I have directed the individuals doing the work and ensured the quality of their outcomes to the market.
research
Regardless of what portfolio I have serviced as a Design Director at IBM I maintain a few approaches. One is that User Research is foundational to any Design effort. Otherwise Designers are purely acting on a combination of assumptions and intuition. Context is required in order to bring solutions to the table that address the needs, behaviors, and goals of these Users--which are increasingly often also the Buyers of Enterprise Software.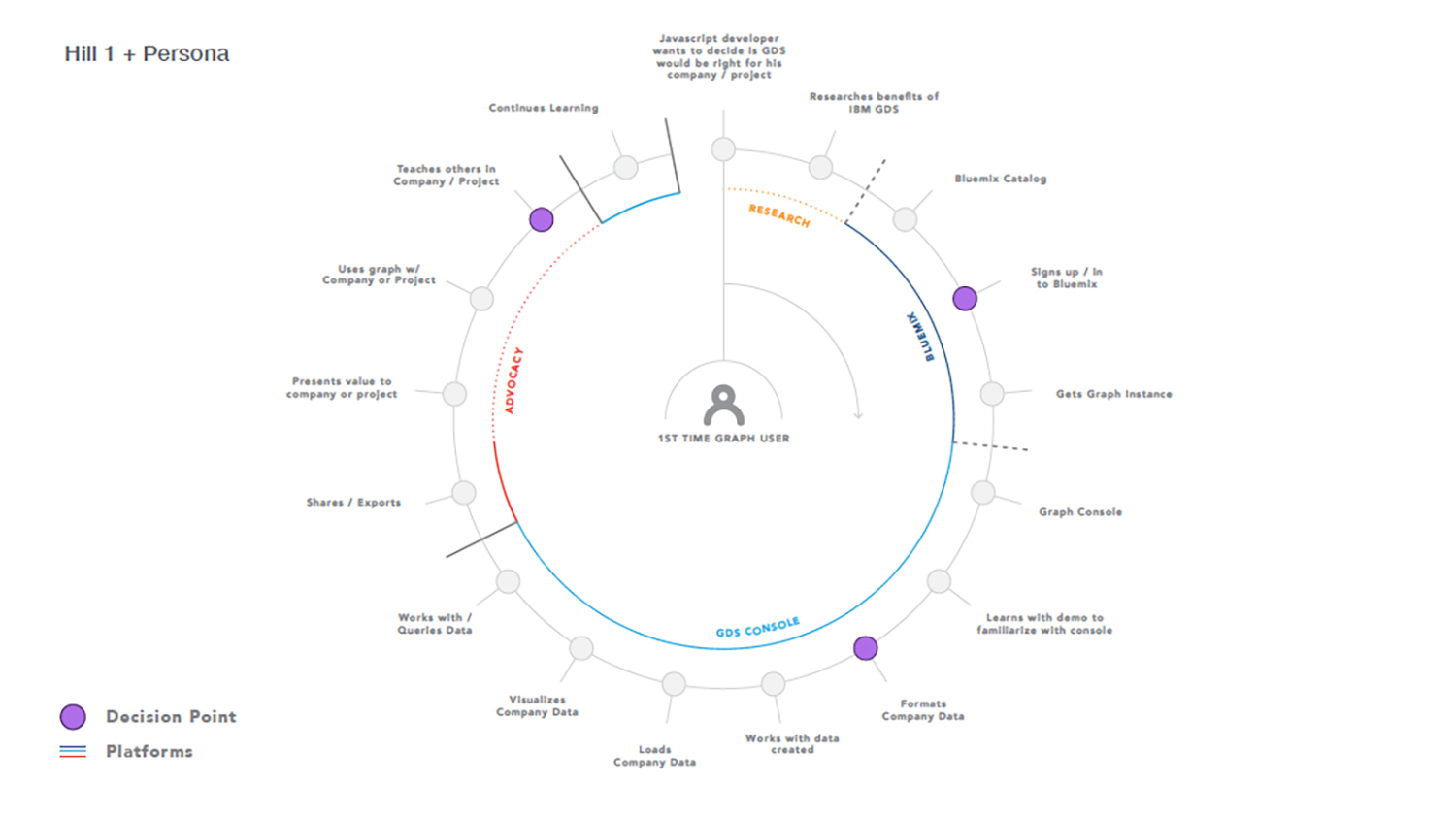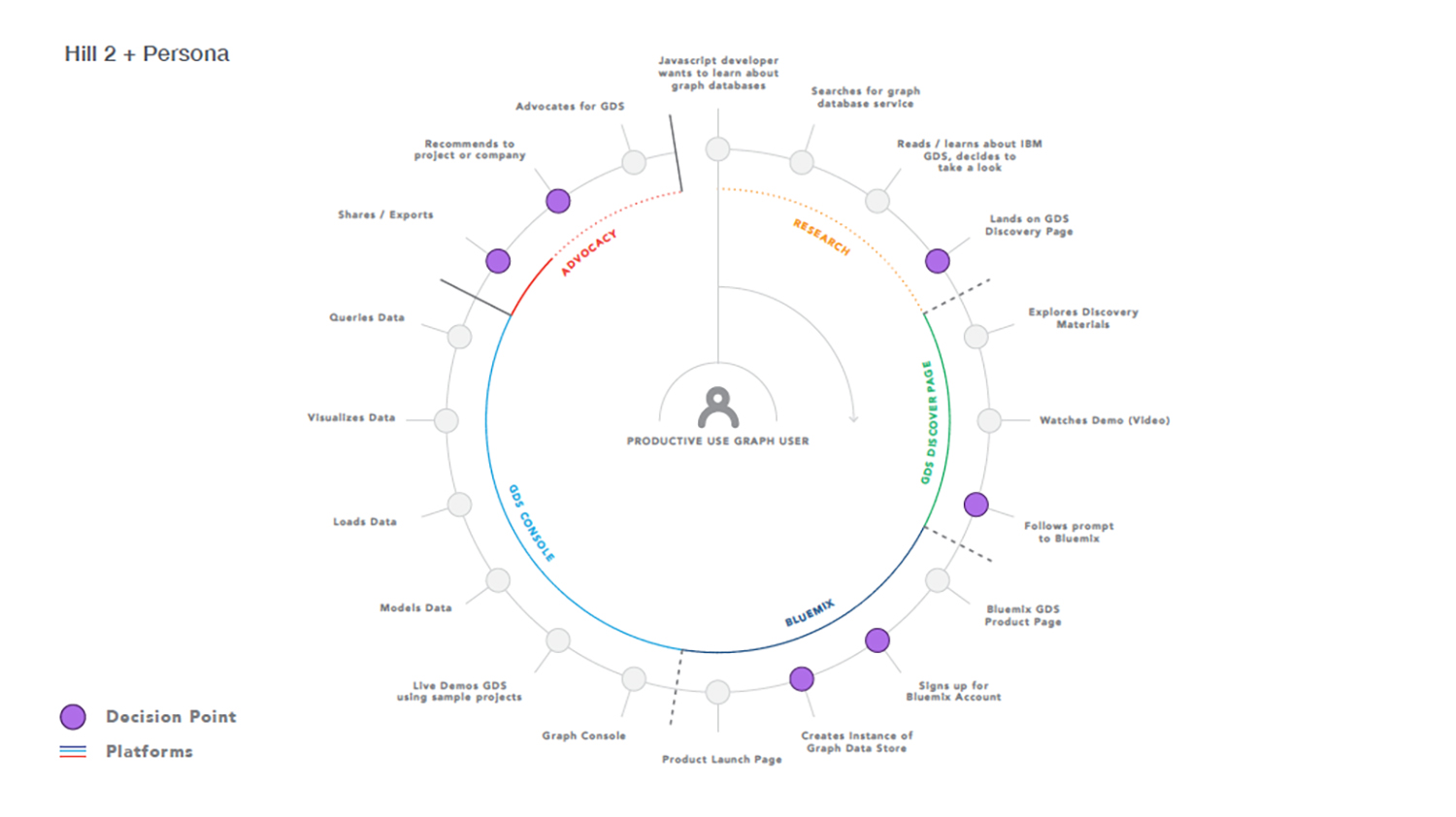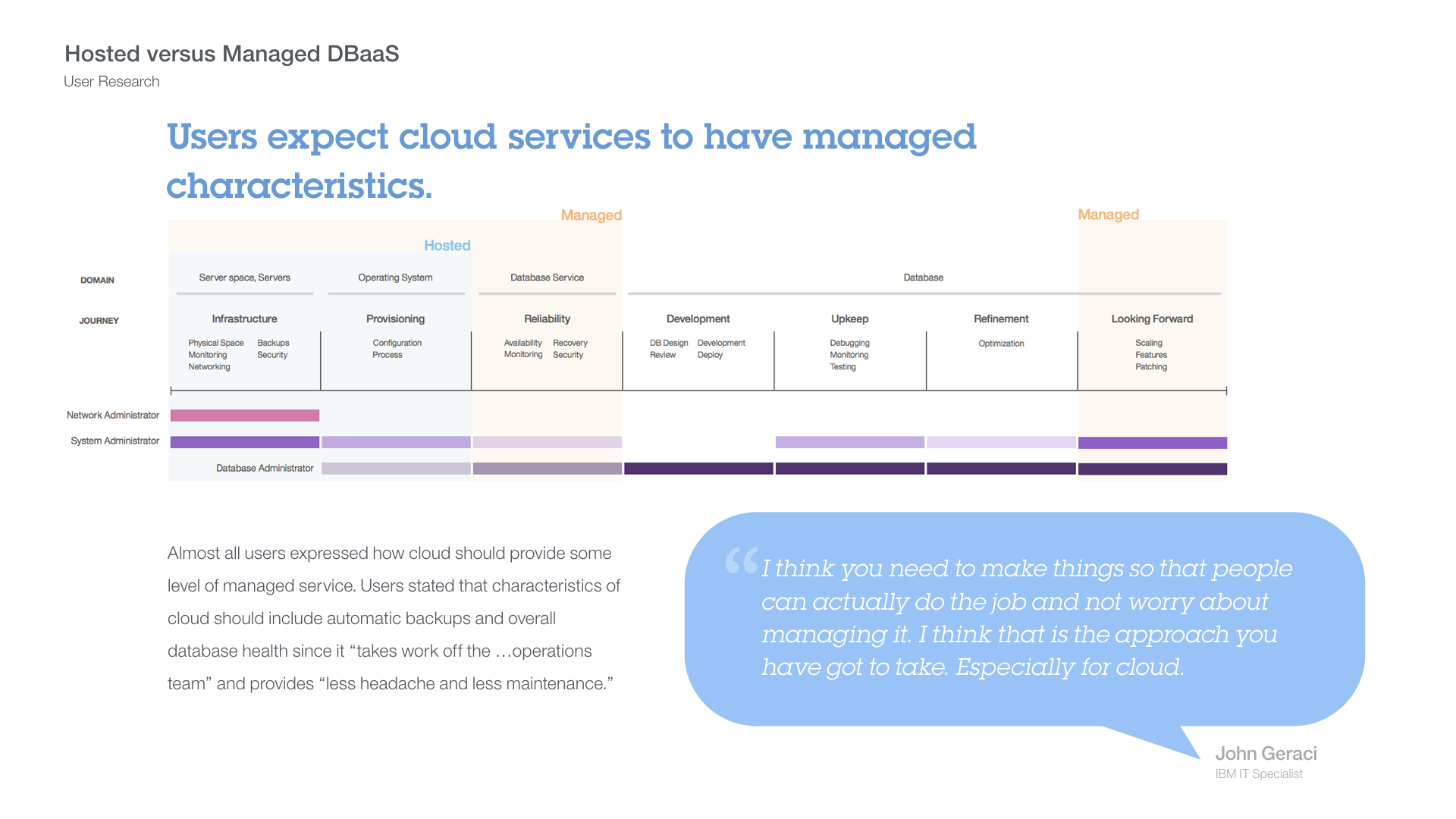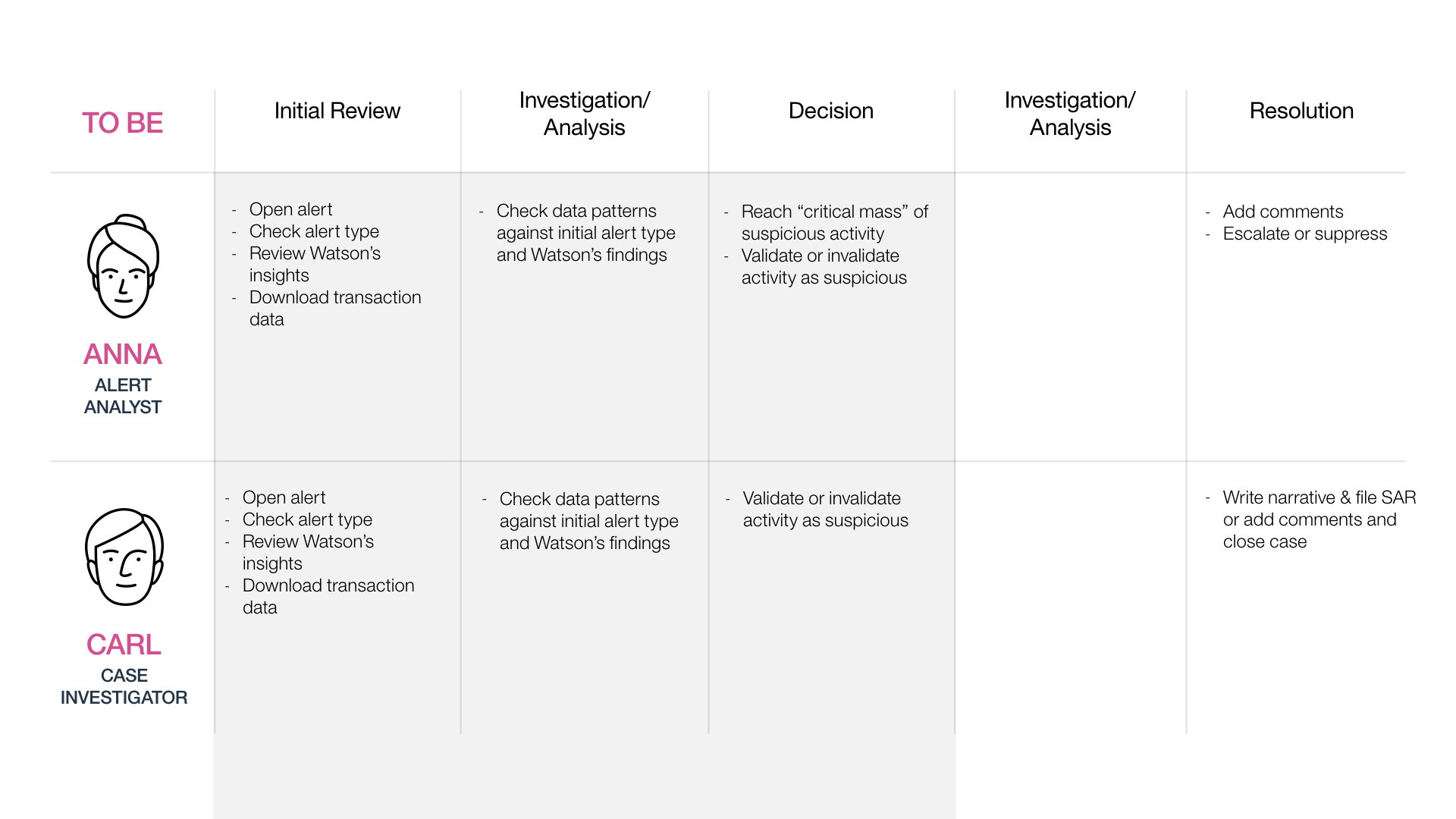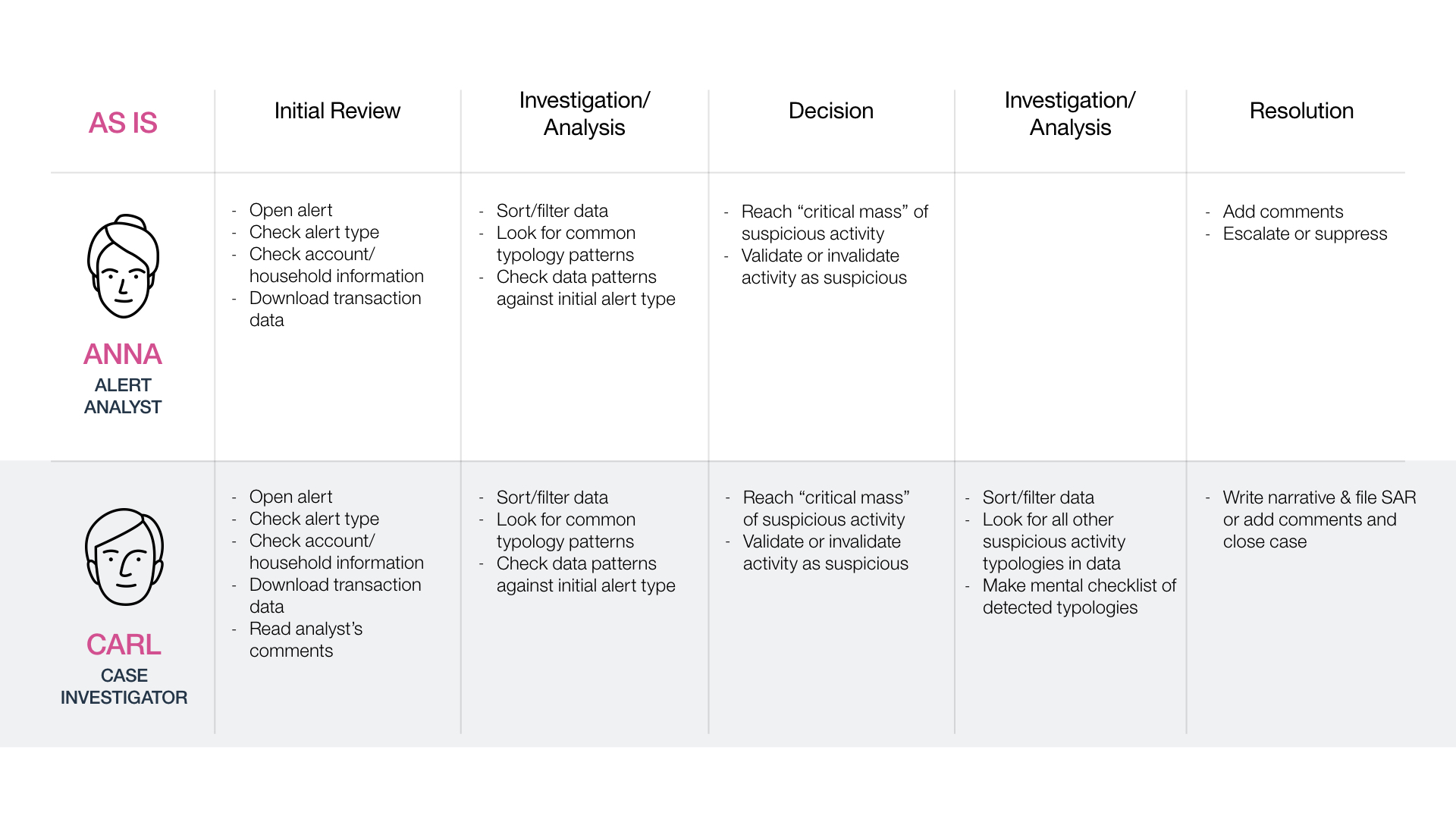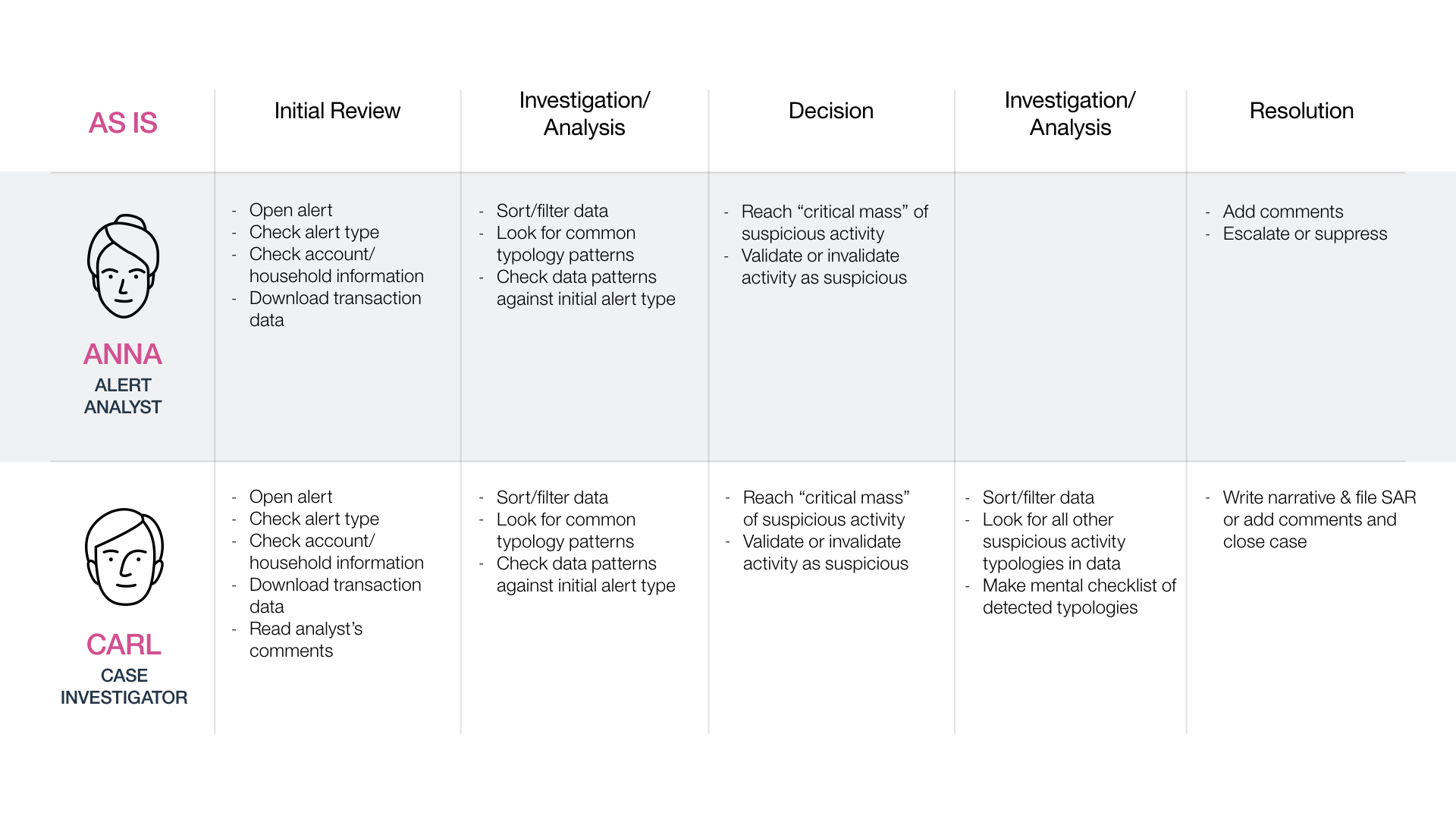 Knowing when a Persona is role-based vs. a true thumbnail sketch of a User is an important distinction. Looking at Users across spectrums of product usage and required support as well as how users of software work in teams with their peers in other disciplines is crucial for identifying unmet needs. And for delivering something that goes beyond feature/function parity.
Watson for Financial services
Due to the fact that this is a new Business Unit for IBM there is a lot of activity taking place, but I am unable to show work in progress publicly at this time. My team is doing a lot of creative problem solving for Regulatory and Finance users. The issue is that Products and Services are currently in various stages of Development. If you want to learn more about what I am doing in this space just drop me an email and maybe we can talk.
Financial Operations and Performance Management
Operations and Finance have an interesting relationship in organizations of many sizes. Add companies that operate across different countries, each with their own regulations, add varying currencies and their conversion rates, and then introduce different data types and structures. Very quickly you have a complex set of challenges and dependencies that are addressed by different users with different, but sometimes complementary goals. This is quite the portfolio of products, and my team did a fantastic job of delivering here.
Analytics Solutions Design Guide
Design Languages are built to scale. In this case the IBM Design Language needed to find it's own regional dialect for the Analytics Solutions Portfolio. This had to have it's own distinct visual character, but not stray too far from it's roots. The goal of this effort was to maintain not only a consistent and recognizable look and feel across a broad portfolio but also to accelerate the design and development of a family of products.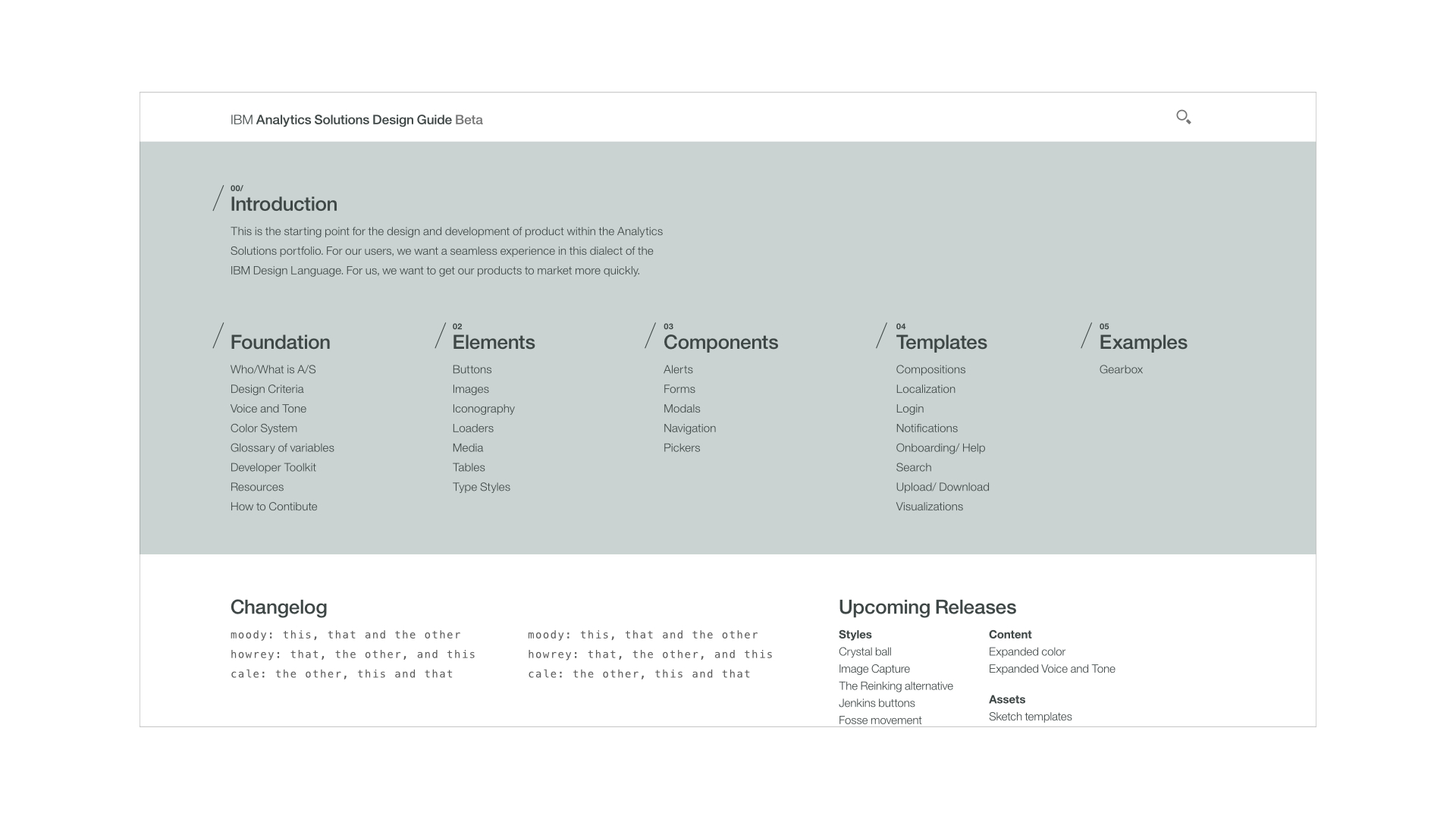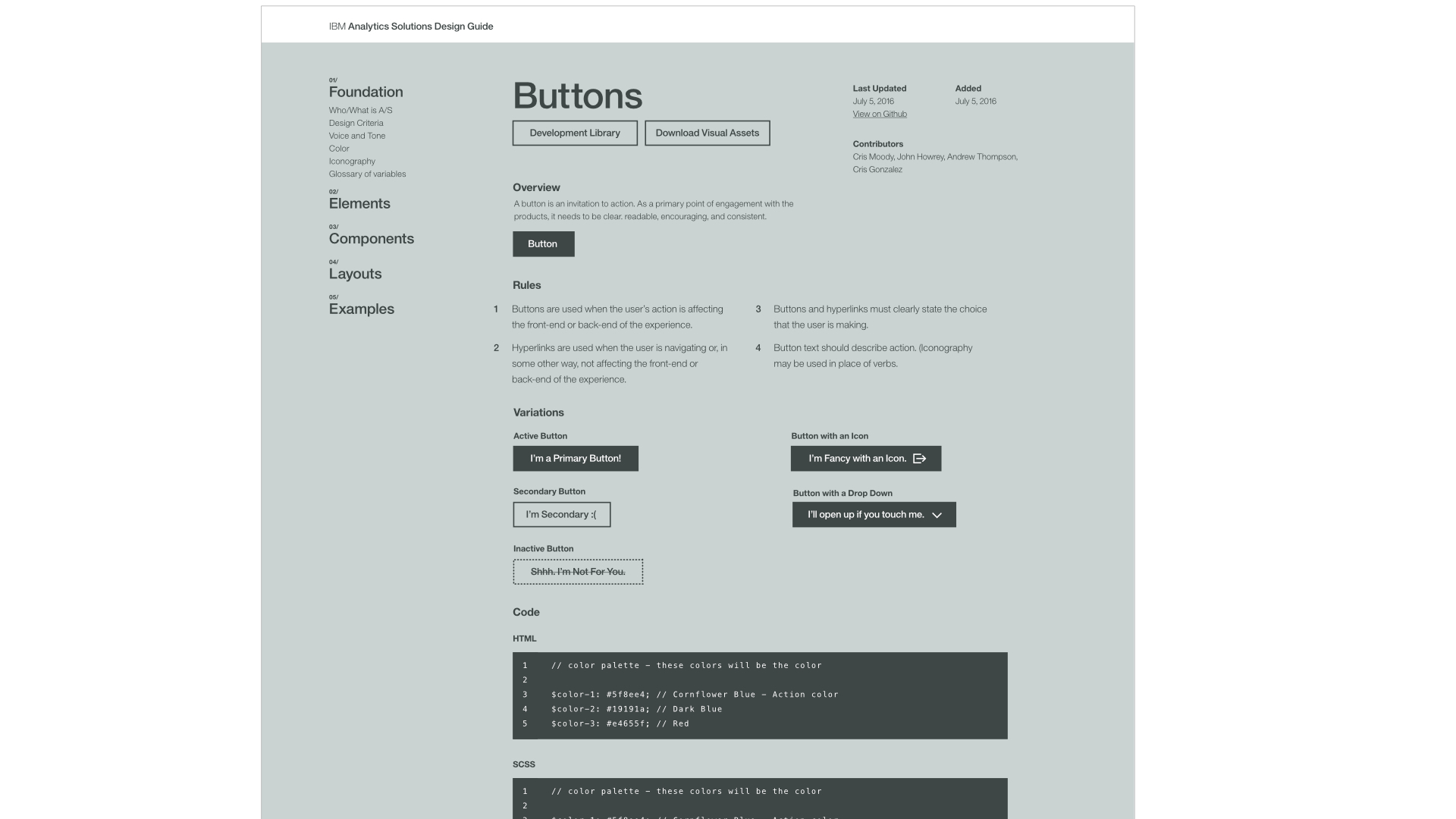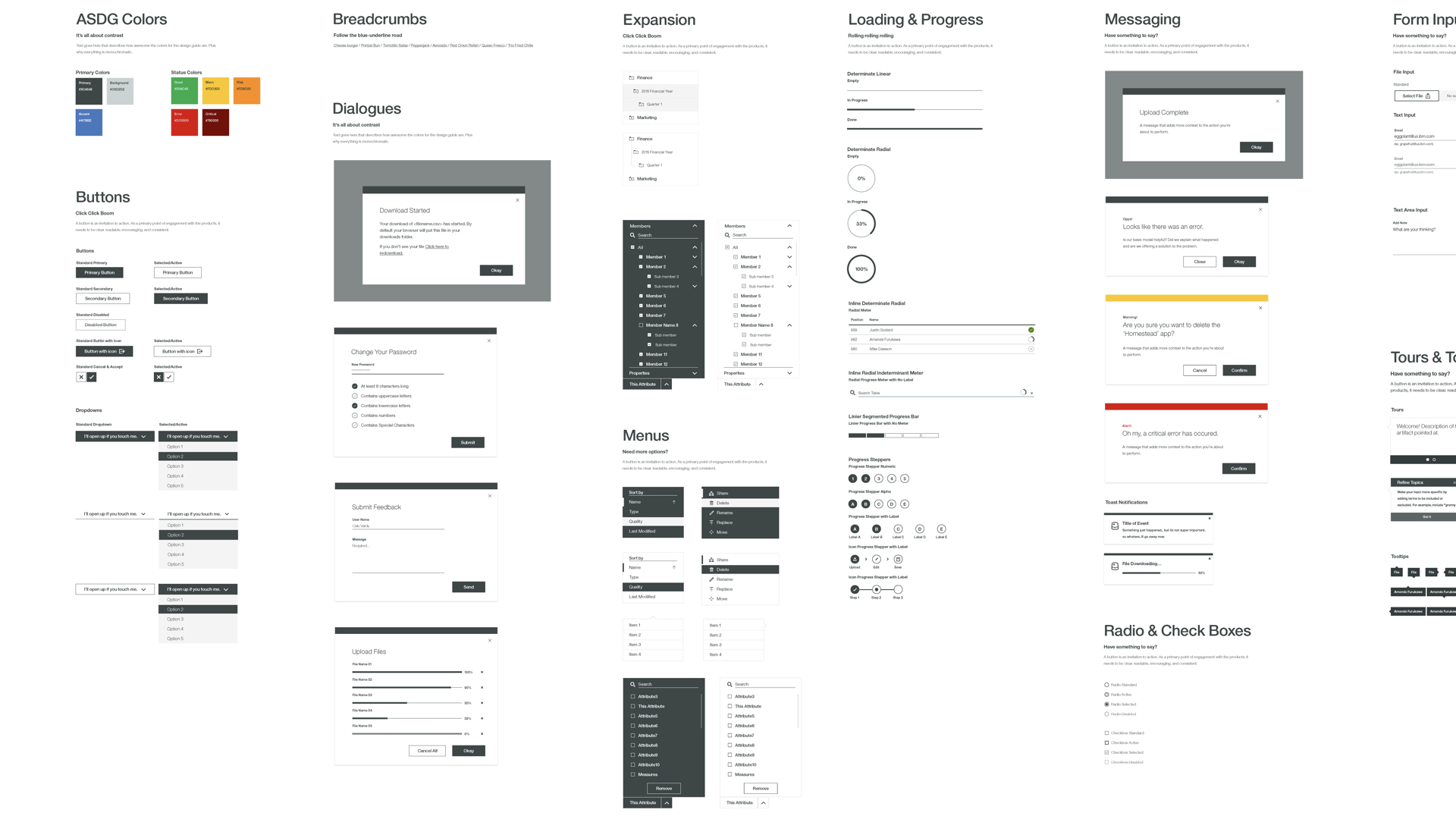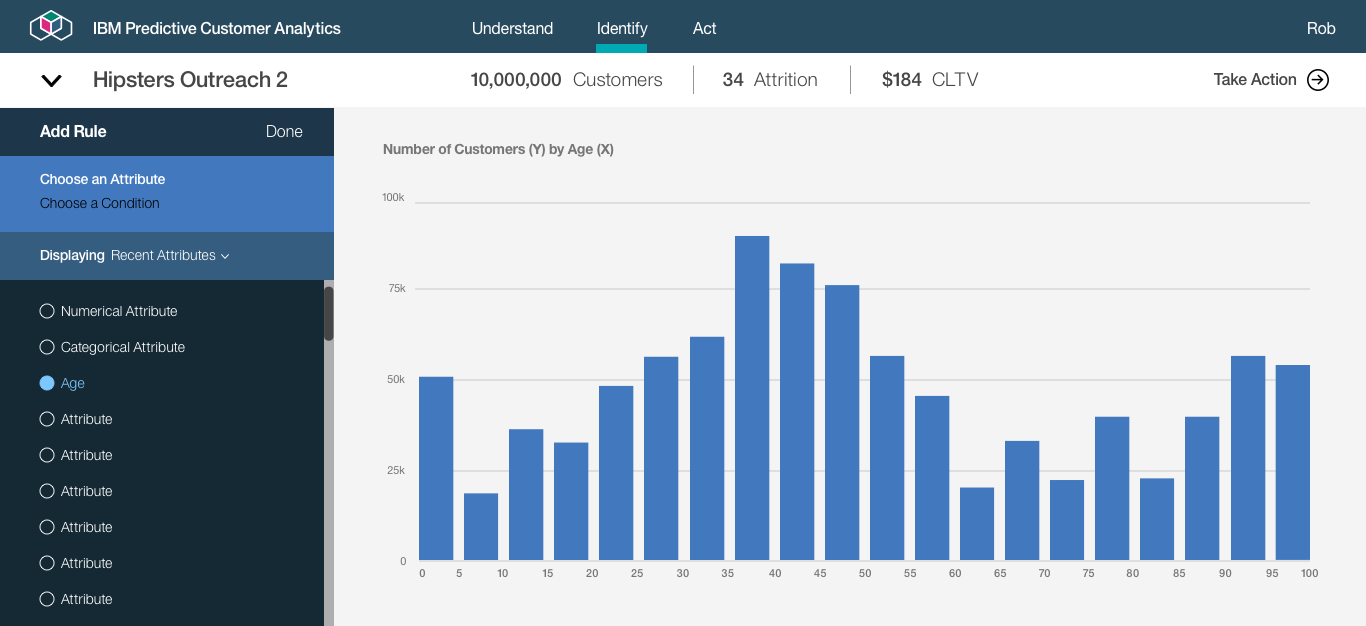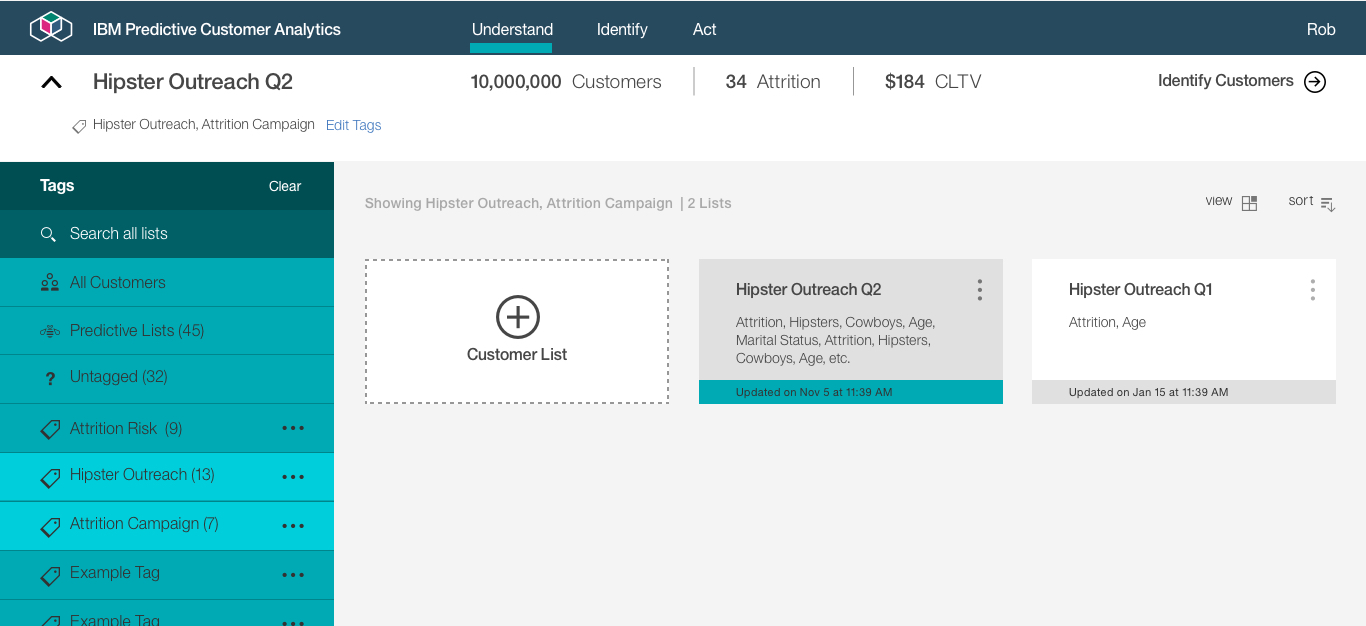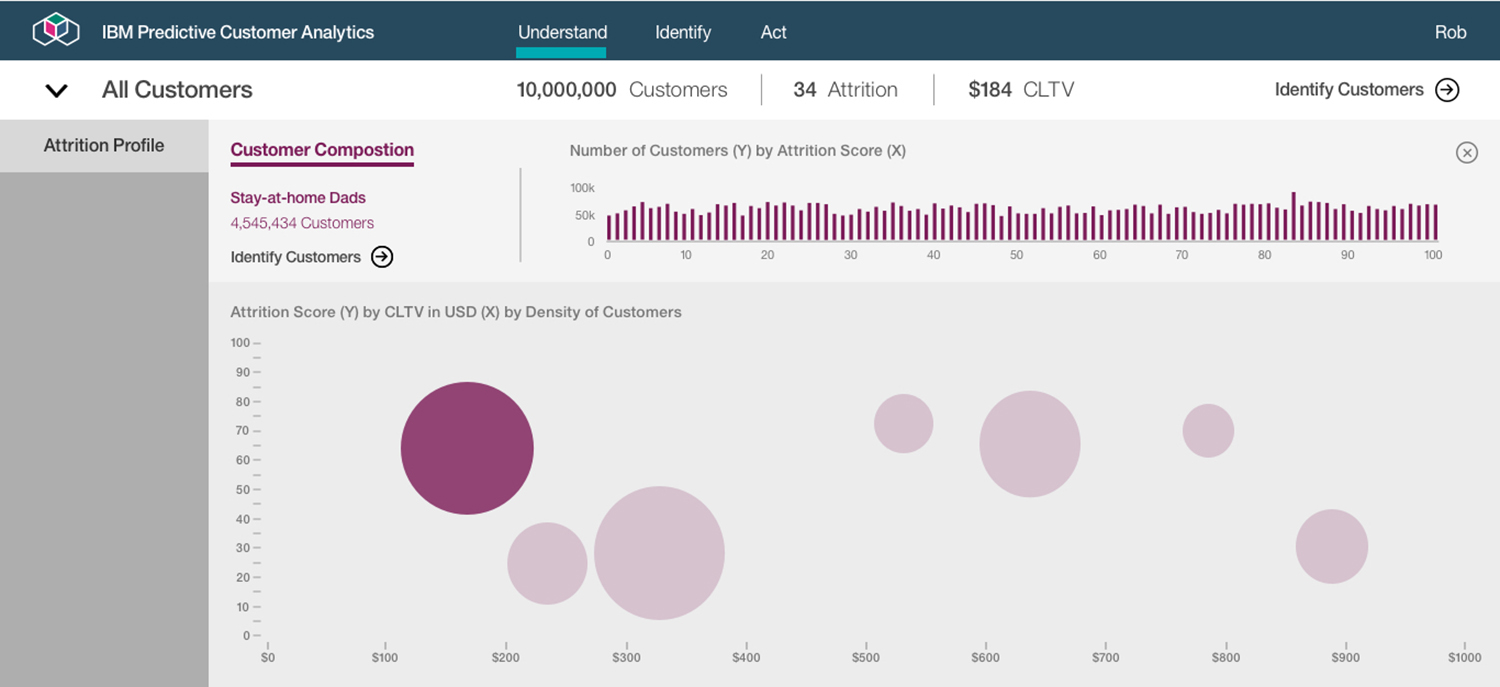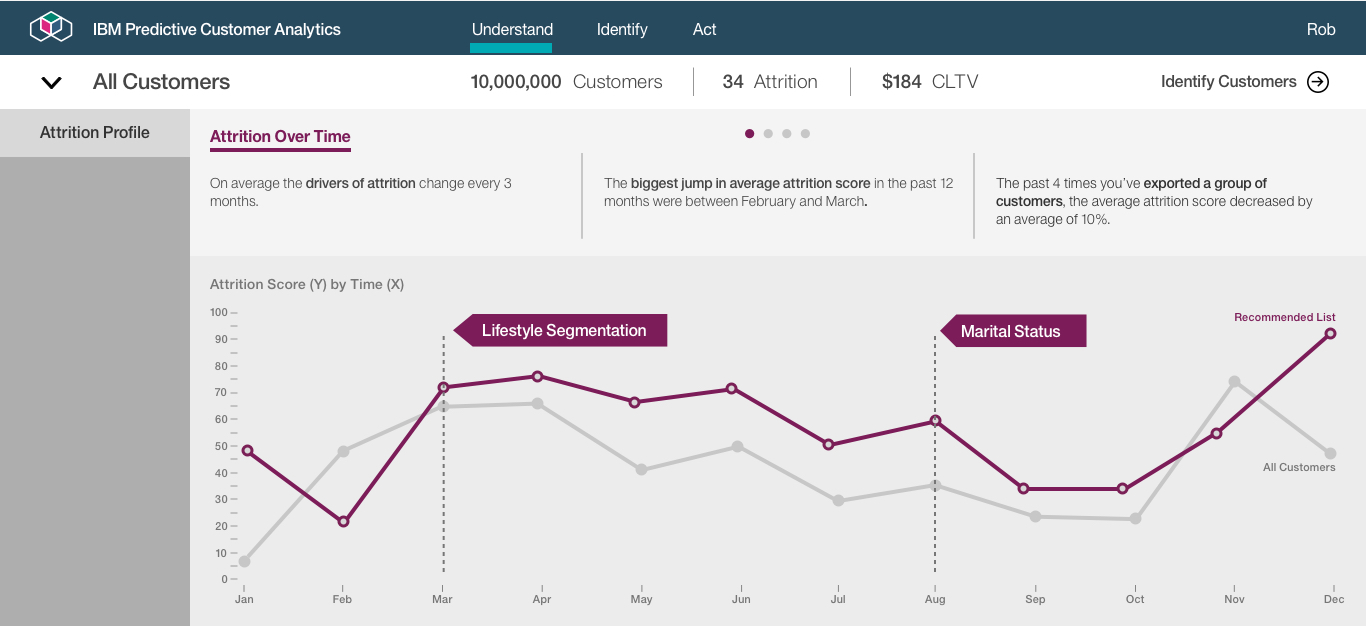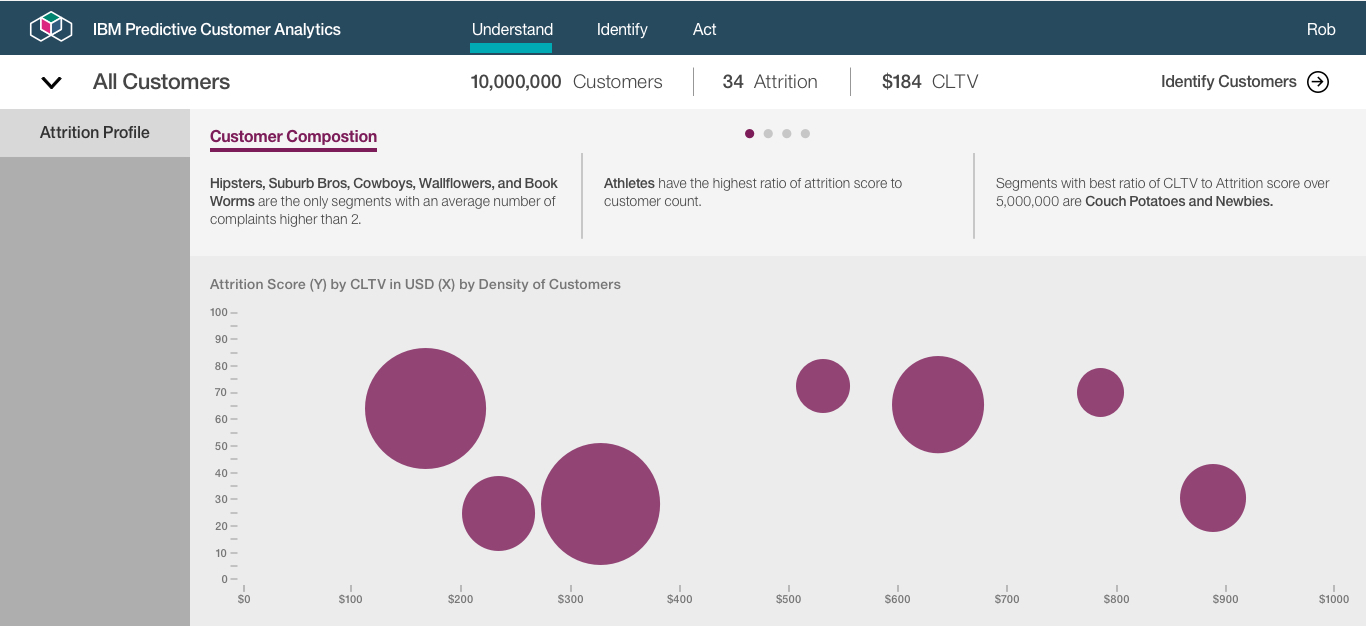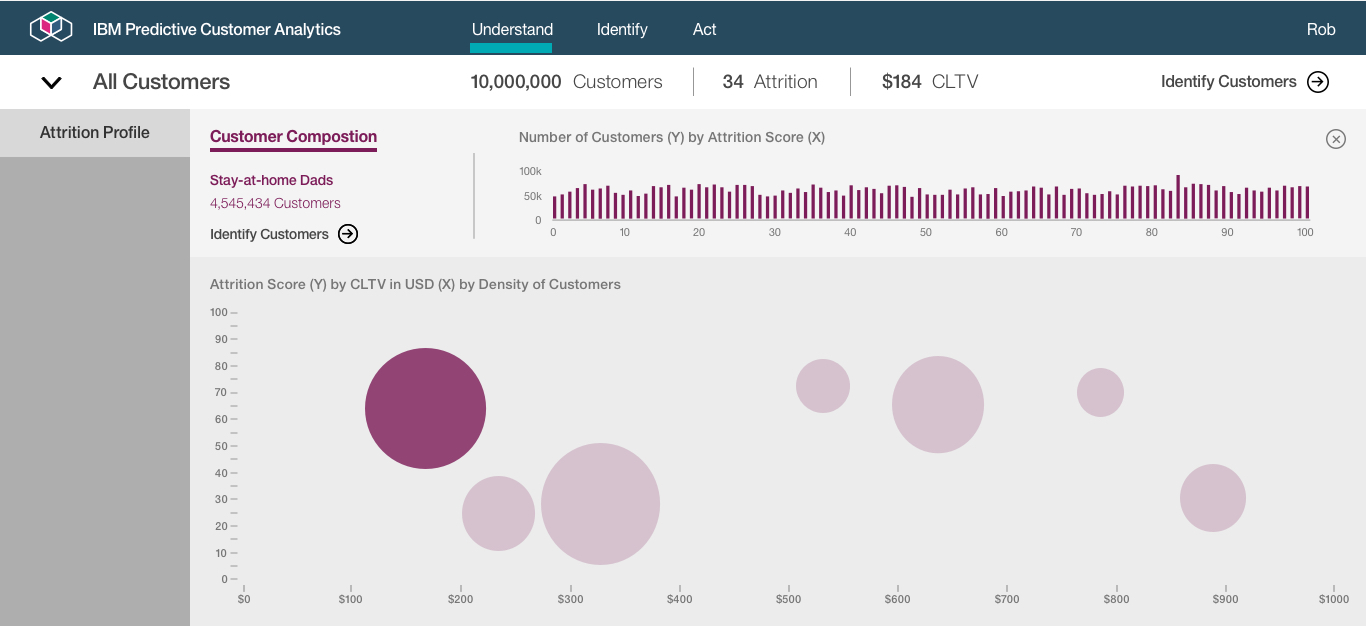 Cloud Data Services
My team thought a lot about how to best provide compelling experiences to today's Data Engineers and Data Scientists. We worked with Offering Management and Development to ship over a dozen Data Analytics and Data Storage Services to IBM's BlueMix Platform in less than a year's time.
When delivering a series of Services to BlueMix we had to balance aligning with the Platform as well as how to create a distinct look and feel across a portfolio that included standalone product. Users with Data Analytics and Data Storage needs may or may not hopscotch from On Premise to Cloud Solutions depending on their (or their company's policymakers') choice of Public, Private, or Hybrid Cloud environments. Maintaining a shared look and feel as well as common interaction paradigm was critical for successful delivery in this space.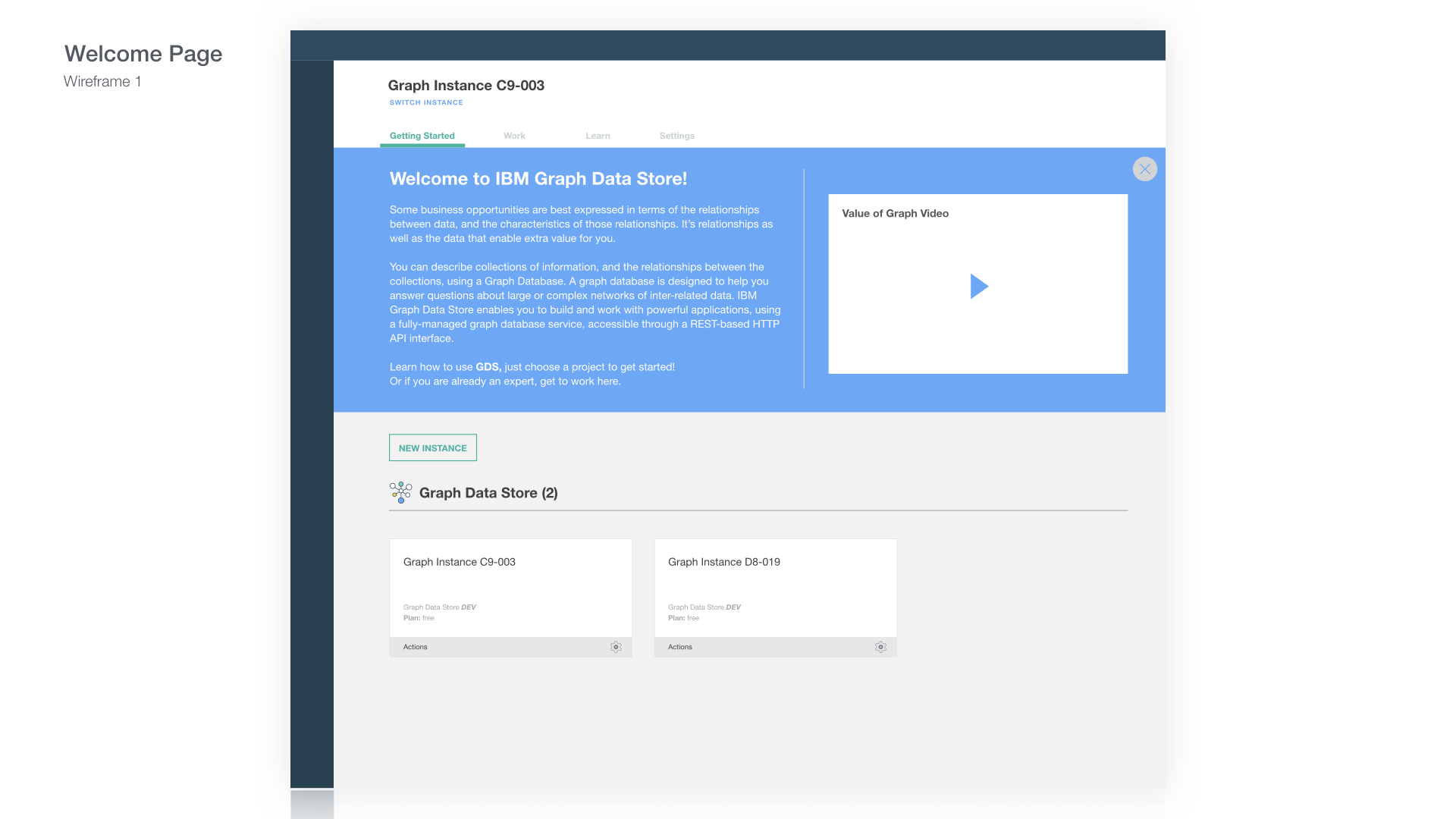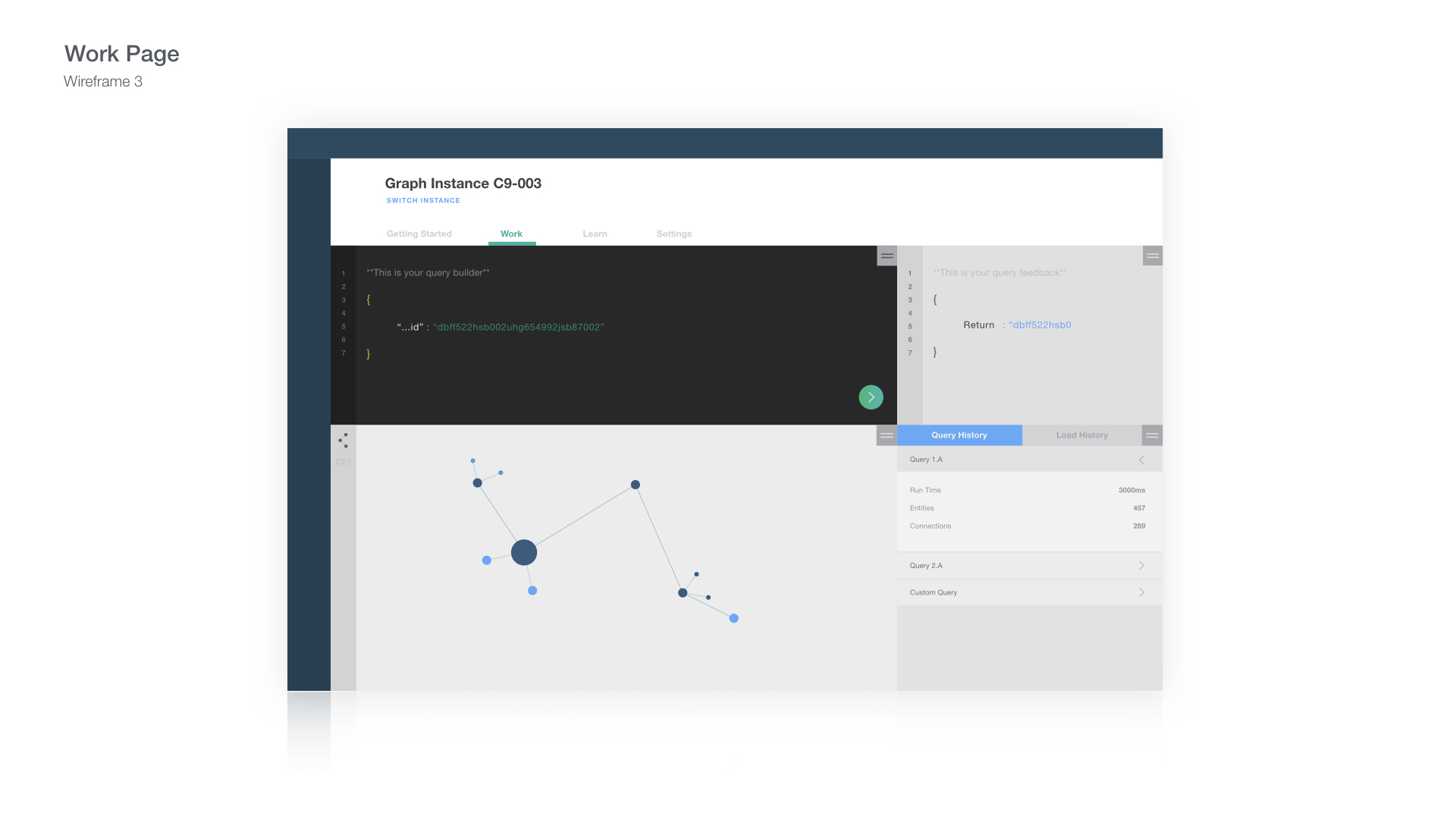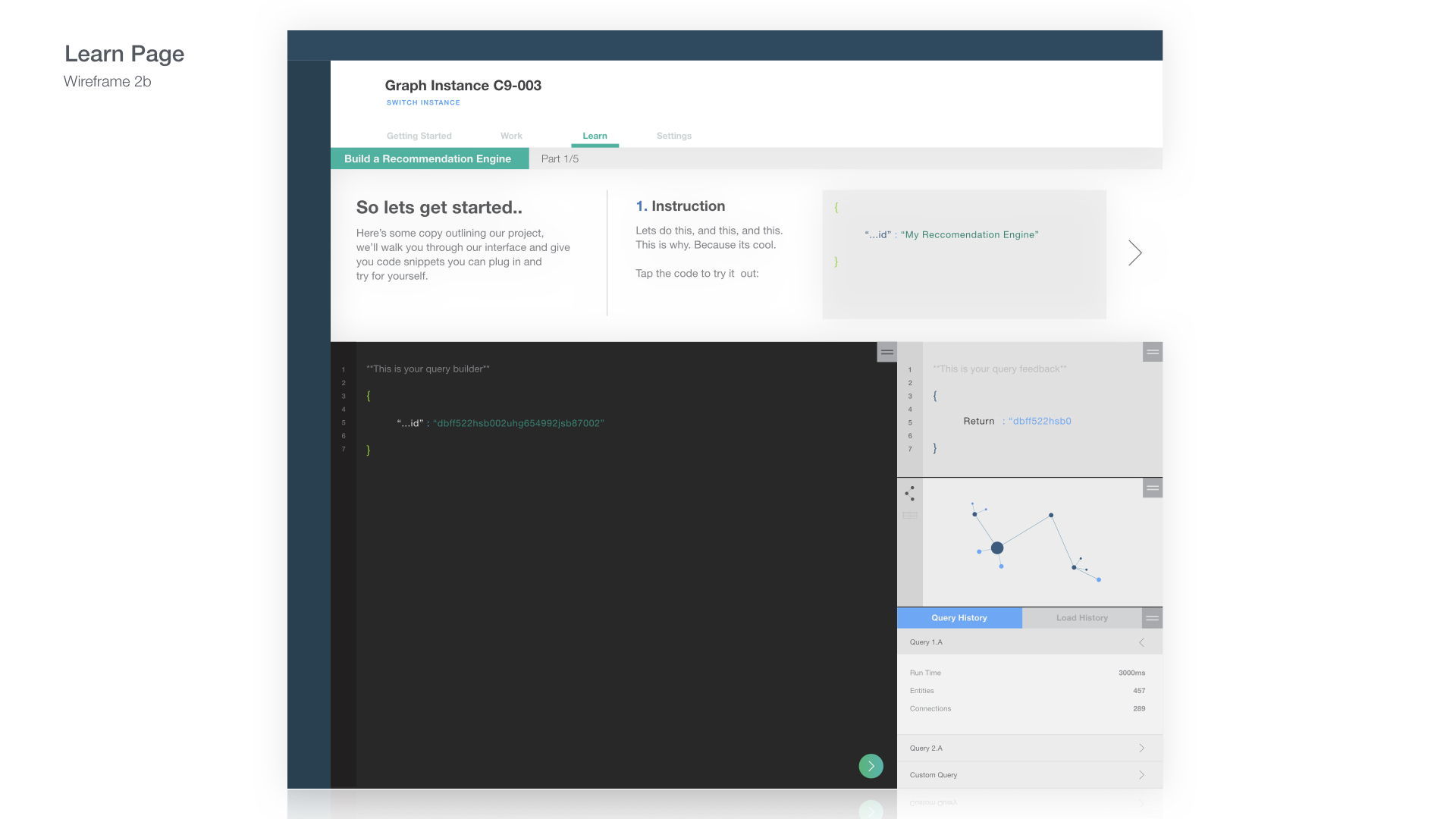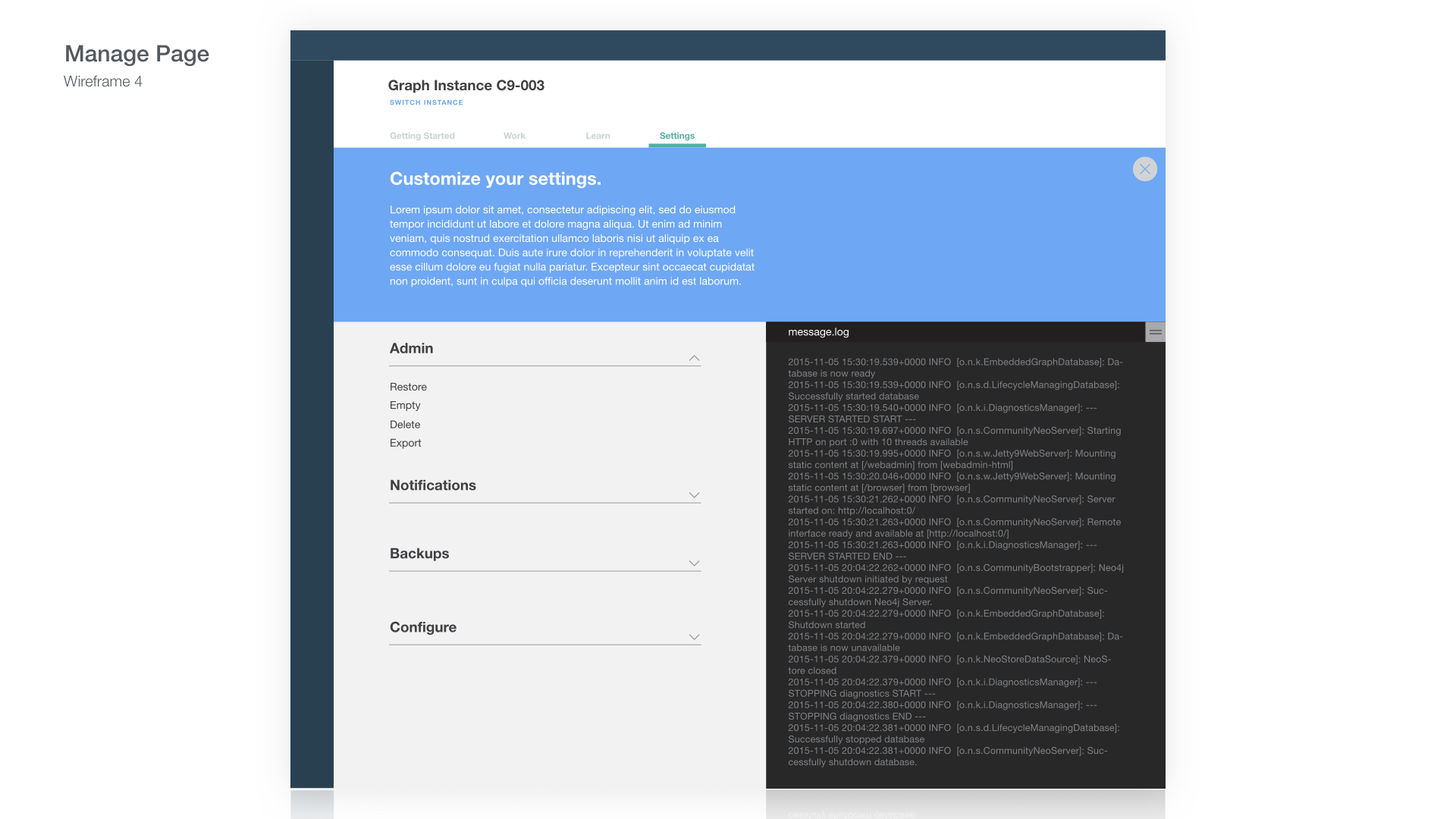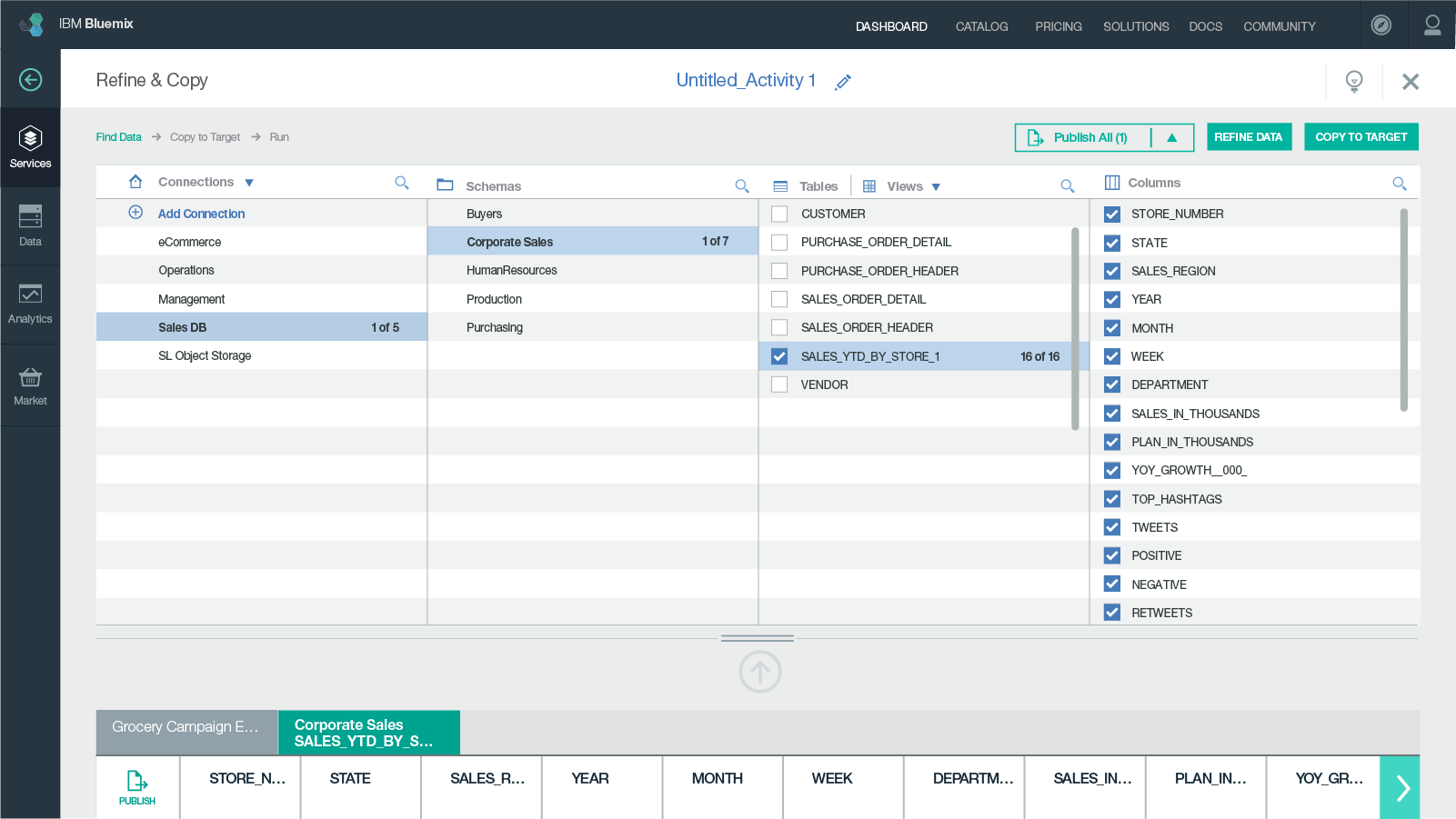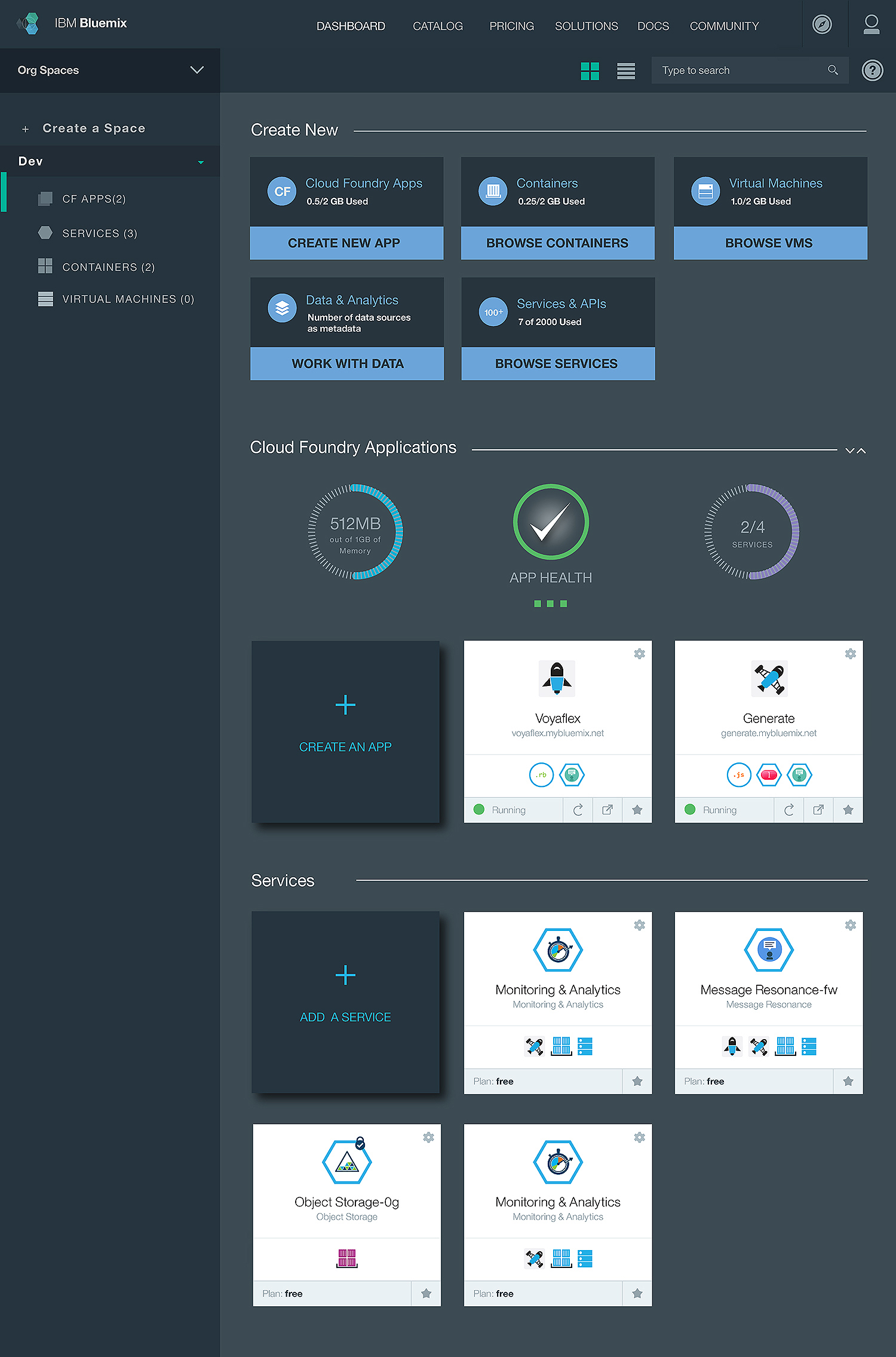 DATAWORKS LIFT
Challenge: Launch a service that does simple data migration from Neteeza to DashDb and DB2 to DB2 on Cloud. In less than a month, leveraging existing scripts and capabilities. Design this with iteration and organic growth in mind, accounting for increased connectivity types and capabilities. This was a fun project for the team to deliver on, making the technical and functional requirements clear while distilling the interactions down to simple steps for the end user.
A true story of iterative design, the wires and flows reflect the back and forth required to get the right experience in production at the right time while partnering with Development and Offering Management to acknowledge the tradeoffs that needed to be taken in order to ship on time. As is the case with most projects, the final result took into account the needs of the User and the constraints of the technology to provide the best possible value for the cost.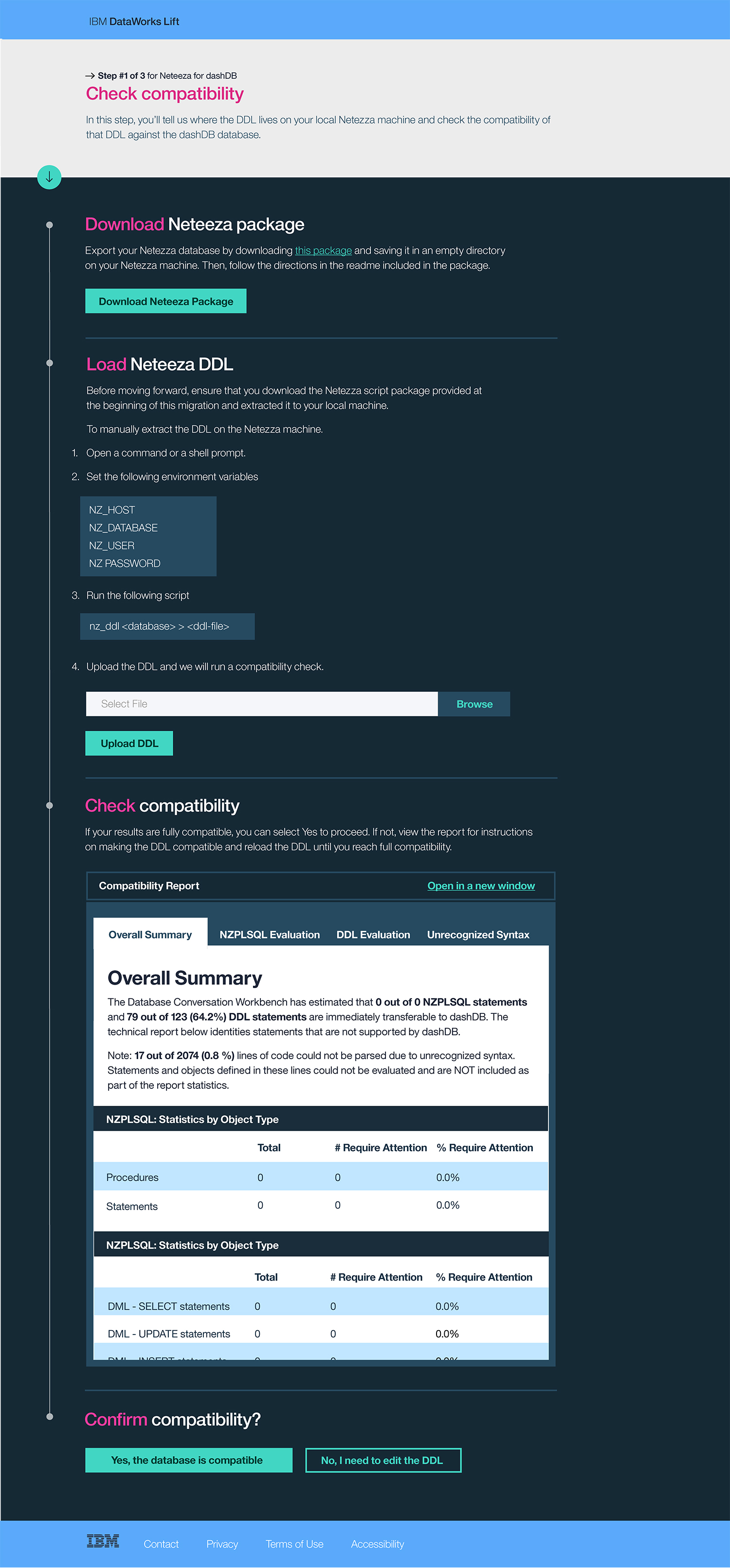 Rock paper scissors
A departure from product, this was a product demo for Spark Machine Learning capability. Not only could anyone walk up and interact with a hacked together setup that utilized ipads, accelerometers, and an array of sensors to detect hand movement, but the resulting aggregated data view on a nearby television was just as interesting. This was taken on the road all over the world and was well received. A simple concept with an outstanding application resulted in increased awareness and usage of the services leveraged. You can learn more about it here.
DEveloper advocacy
The line where the User Experience of a Product and Service ends isn't always so clear. When designing for Cloud based tools Documentation, Sample Code, and Demonstrations are important aspects of a successful delivery. In late 2015 a subset of my team partnered with the Developer Advocacy organization and a vendor to deliver the IBM Developer Advocacy Lab. You can take a look at it in production here.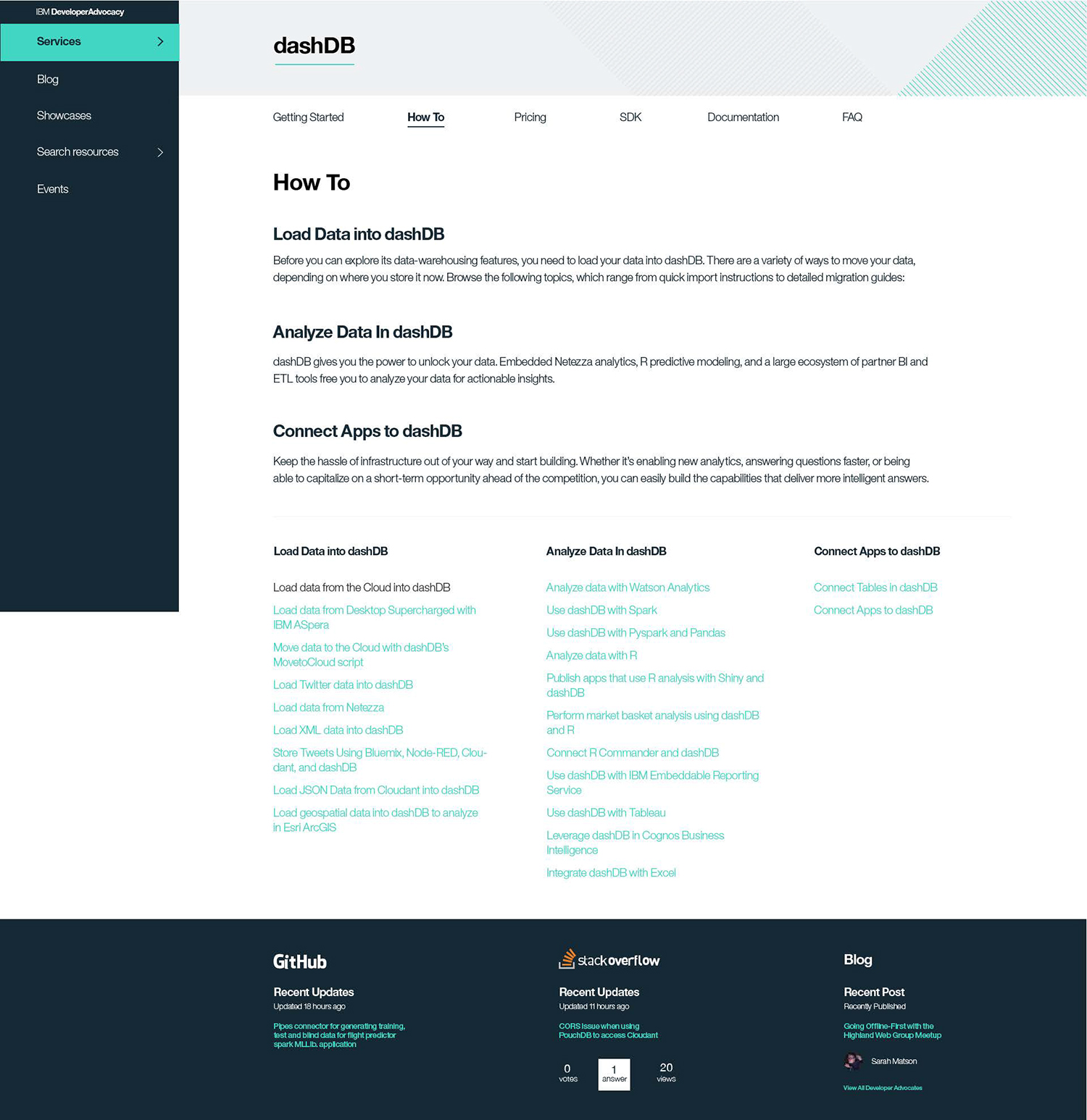 Watson
For the better part of a year my position as Group Experience Director on IBM Watson was to make sure the best possible experiences made it to market across both Products and Services. This included Demo applications, Business Development, Marketing Integration, and always keeping in mind the Developer and Ecosystem Partners. I also instilled confidence in the team, pushing them to iterate quickly at lower fidelities vs. launching into Digital tools to start wireframing without considering other approaches. Toward the completion of my tenure I doubled the size of the team, hired my replacement, and split the team into Watson and Watson Health.
Watson DEsign language
First on my to-do list after inheriting the team was to establish an improved Design Language. Integration of Voice and Tone and the sharing of components without commoditization was important. Writing of clear criteria to empower Designers with the logic that needed to be applied was a requirement. Application and iteration ensued.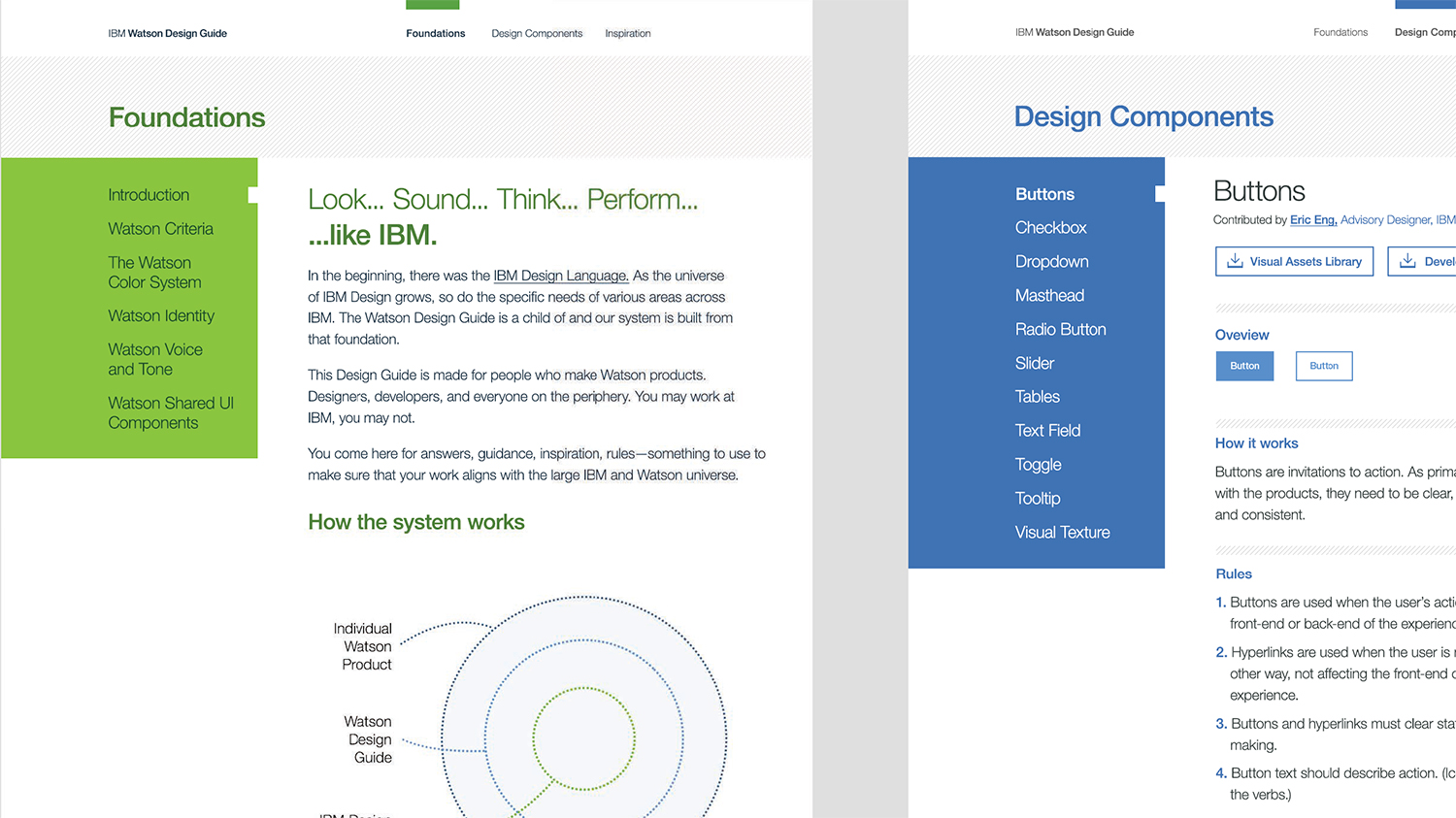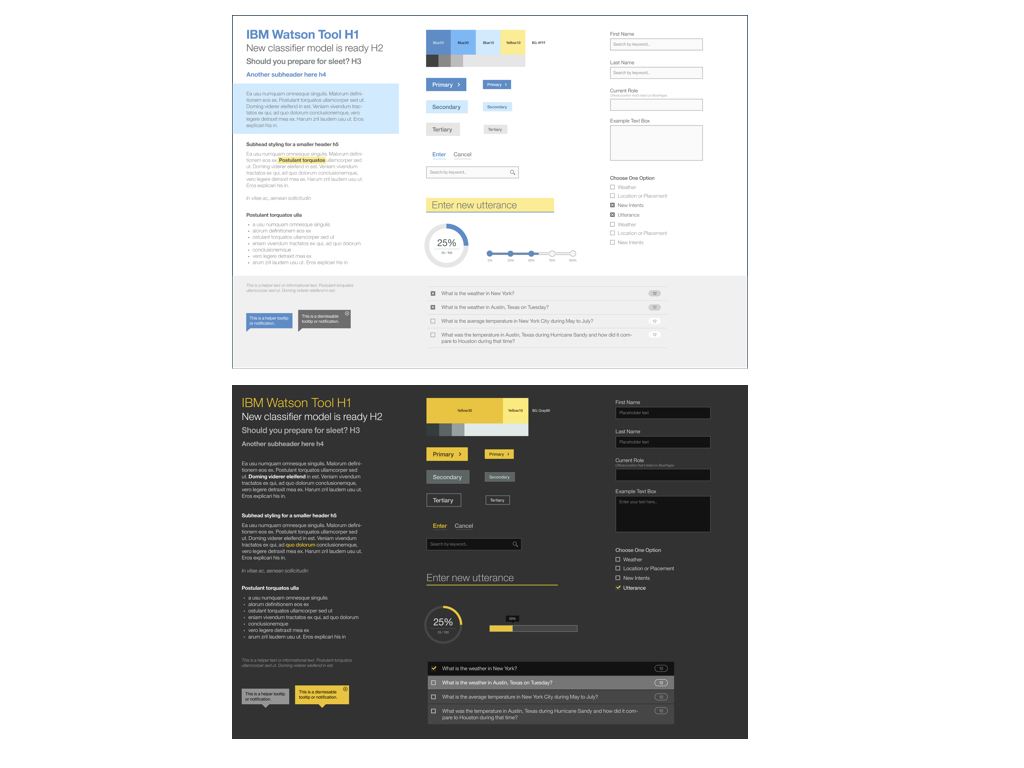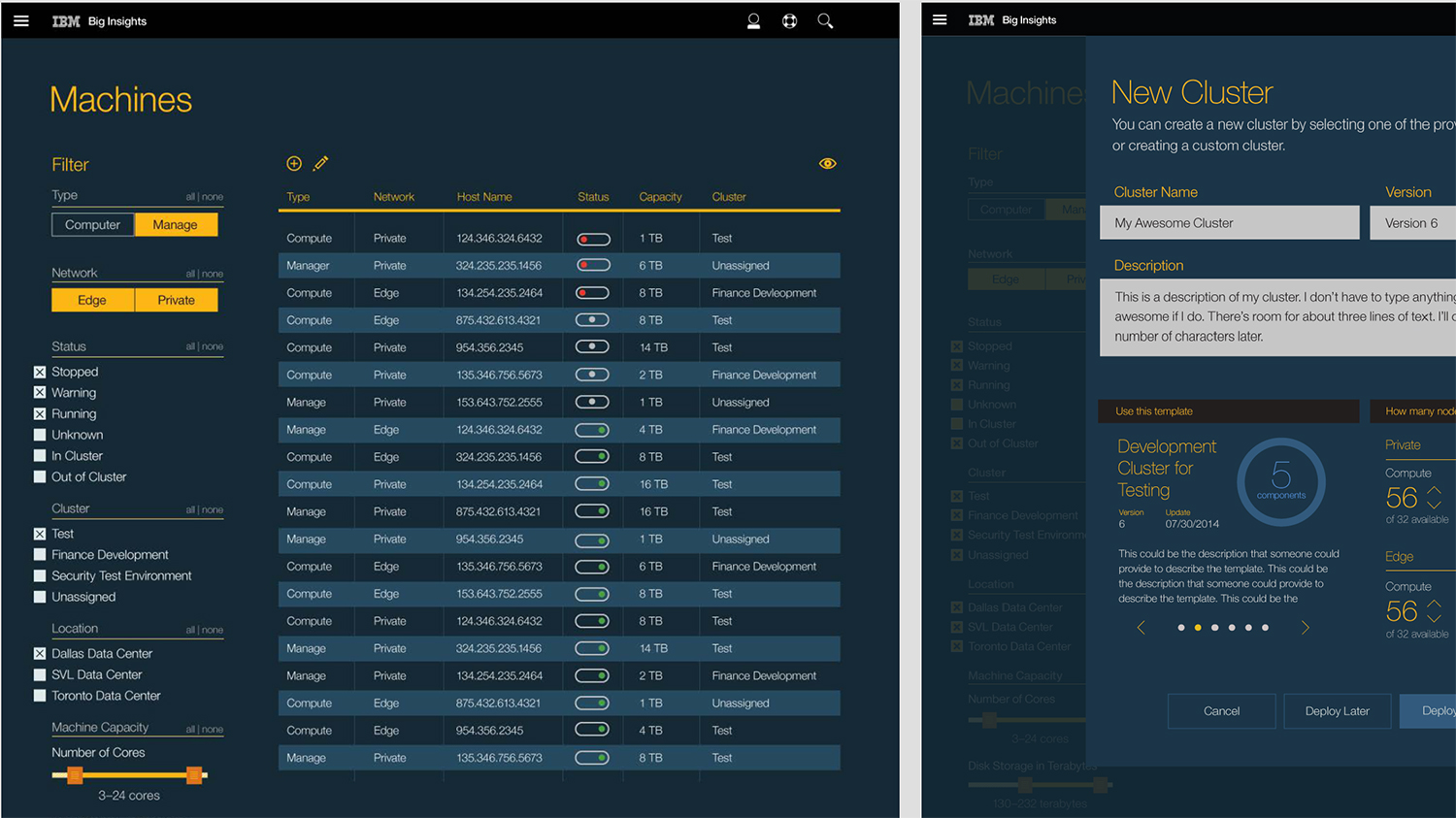 Watson Voice and tone
In parallel with the establishment of a Design Language, Watson needed to refine how it talked to both it's users and it's consumers. This messaging needed to be cohesive and consistent across not only Product and Service but also Marketing and Communications. This was then iterated on and infused into the Design Language itself.
Watson Products
Watson Knowledge Studio, Watson Discovery Advisor, and several client-specific implementations had updates or launches under my supervision. Each had it's own degree of personality given variant in user and degree of (occasional) secondary branding. Focus was placed on common use case treatment for corpus ingestion, metadata management, and data visualization.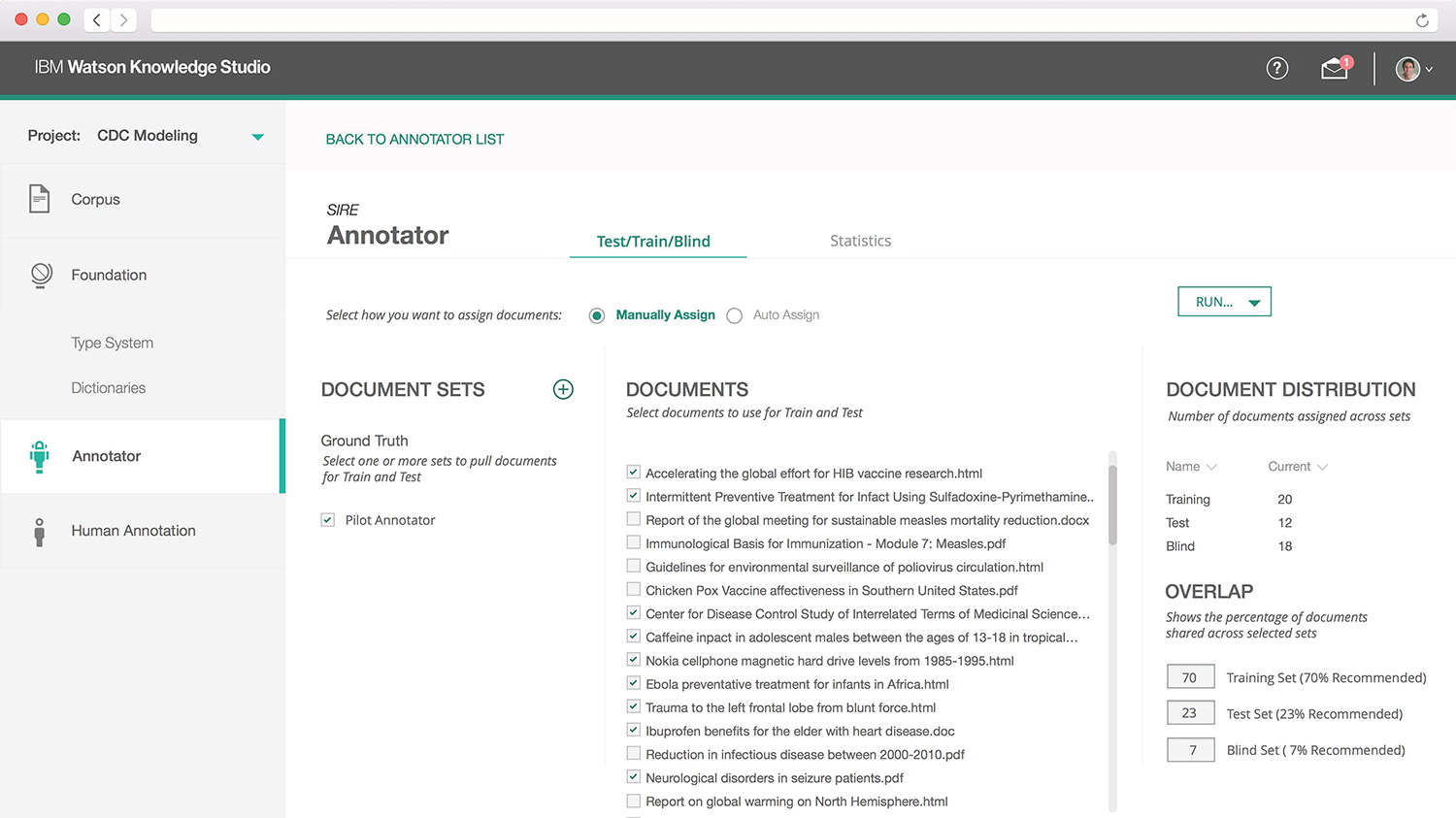 Watson services
All Watson Services were iterated on during my time as the GXD. Some received more investment than others, but all saw advances in terms of improvement of experience, regardless of whether or not that took place in the IDE, Documentation, Demo application or inside of Bluemix. Whereas the majority have shipped and evolved again, some concepts remain in Development today.
Watson for education
Working with another Design Principal, we created thoughtful, thorough, and finished designs for use in a public-facing video abstract for use at conferences around the world by Corporate Vice President Stanley Litow and other business leaders. The work done by a very small team has since been continued by other product teams. This was a useful artifact, as within six months Watson For Education became it's own Business Unit.
The screens that were created were a byproduct of an experiment in concept generation at scale. Over 40 Designers spent two hours taking a look at various aspects of curriculum planning and how to leverage different Watson Services to assist teachers.
Before I was a Design Director I was a Design Principal
I was hired on at IBM as one of six Design Principals. Our job was to scale the practice of Design Thinking and to support the growth of the studio. In this role I helped train a 'bootcamp' of 60, hire over 300, contribute to a global design language, and personally educate over 600 IBMers in Design Thinking. Five others and I were also responsible for successful integration of Designers onto projects and into Business Units. After two years in this capacity I moved from a position of influence to a position of ownership.
Education & Facilitation
Teaching Designers how to be practitioners requires more than simply working on Enterprise Software projects together. As part of this position I influenced not only the way Design Thinking was applied at IBM, but I also trained the trainers. The best metaphor I have come up with has been: not only mixing, but also serving the kool-aid (It's not perfect).
IBM Design Language
Three Principles and I led the creation of the IBMDL, which is currently applied to over 1,000 SW products at IBM. This began with a small team and a series of workshops and discussions, culminating in the creation of a website that has empowered hundreds of Designers across the world. I played a facilitation and thought leadership role, collaborating with my peers on it's foundational philosophy and definition. I continued this by working with a trio of Designers focused on the IBMDL's translation into motion and animation.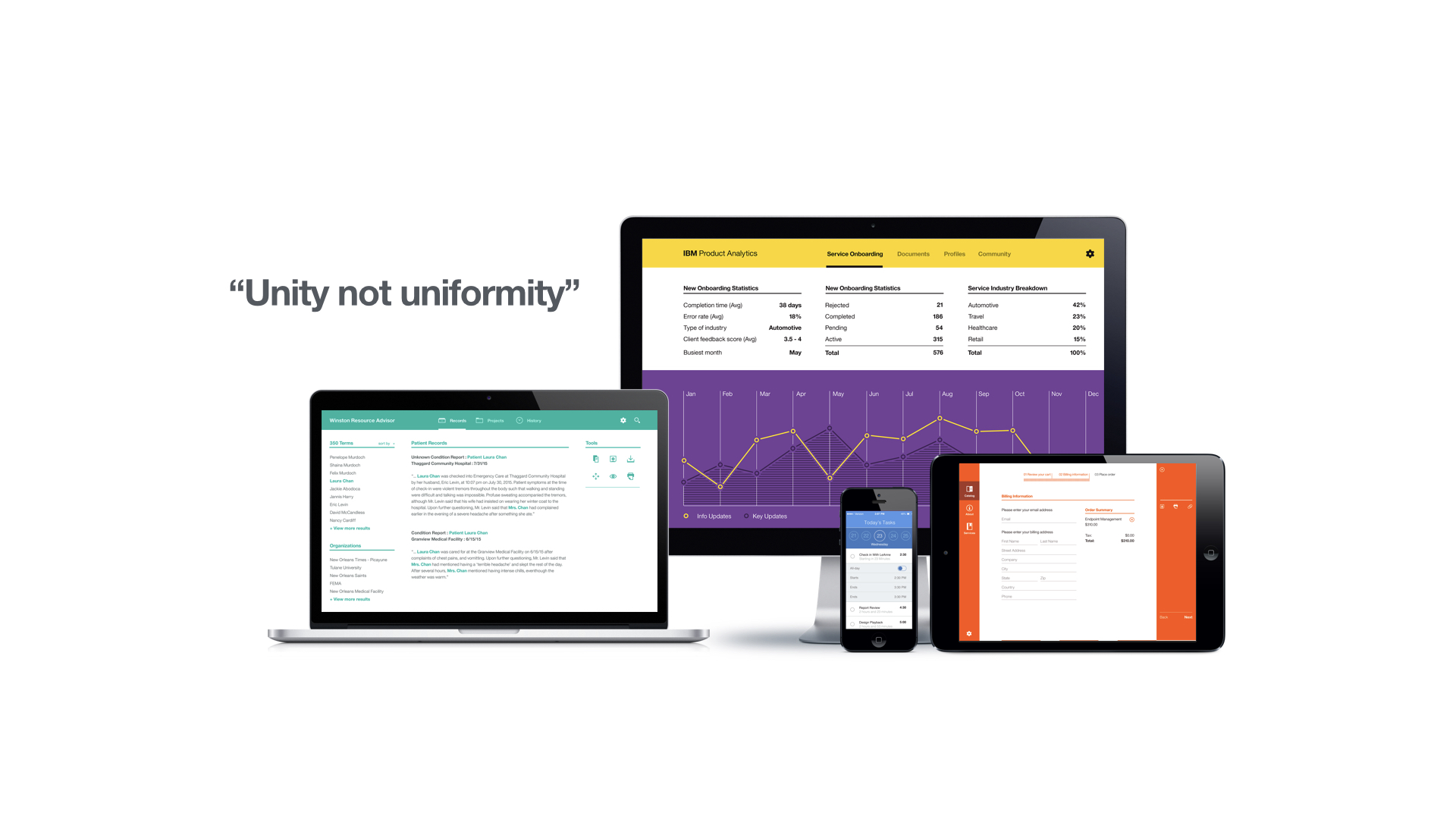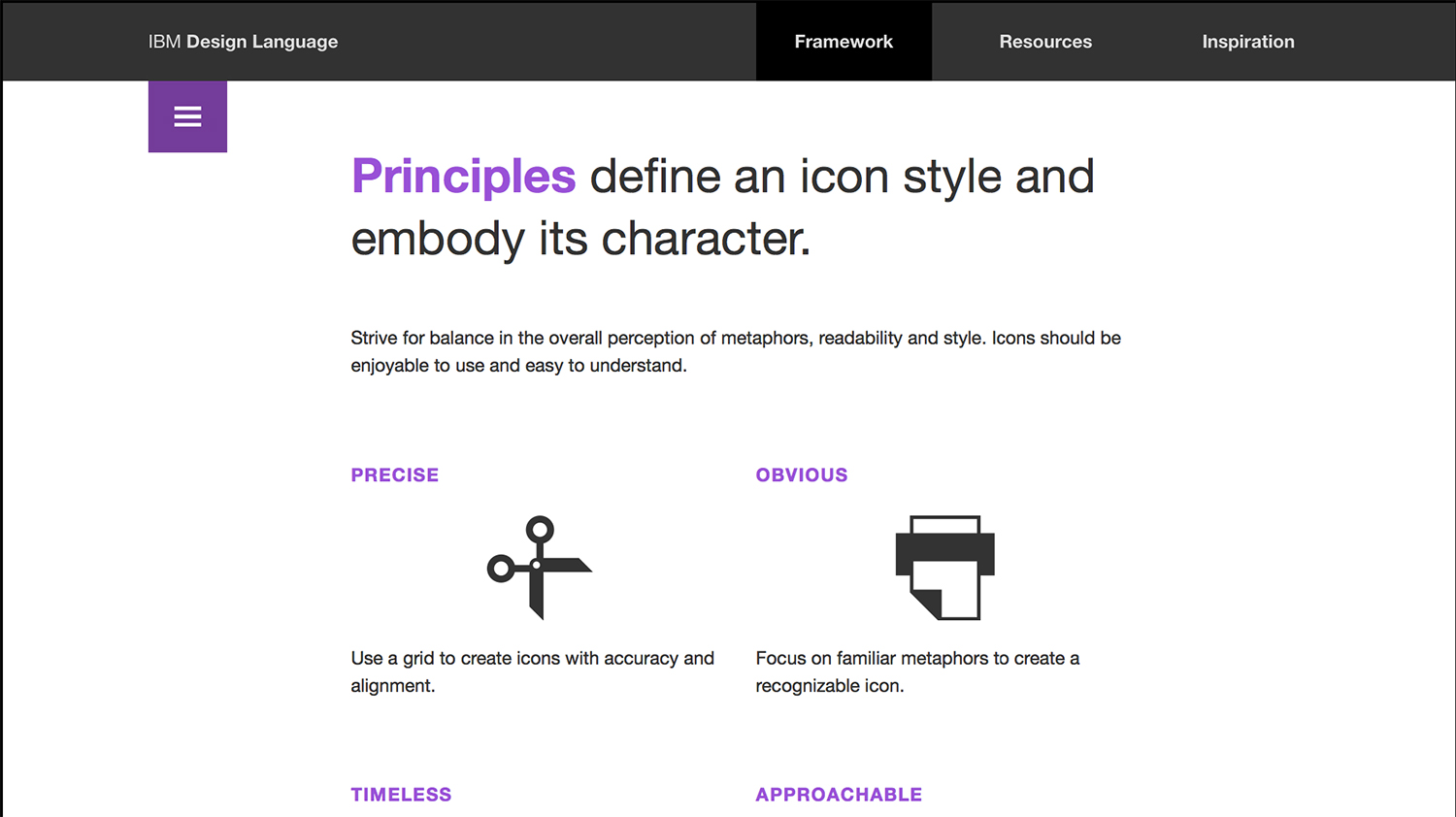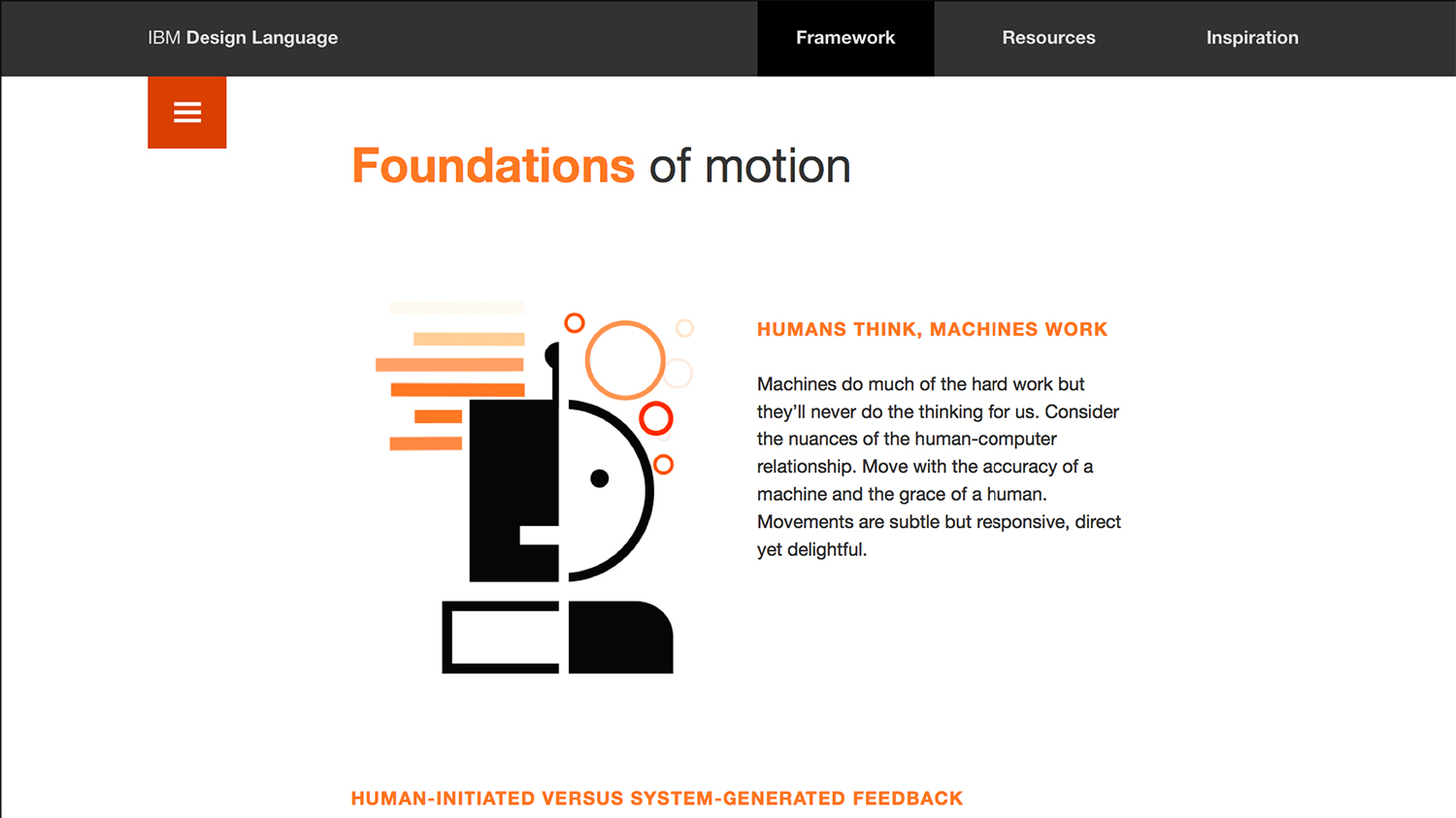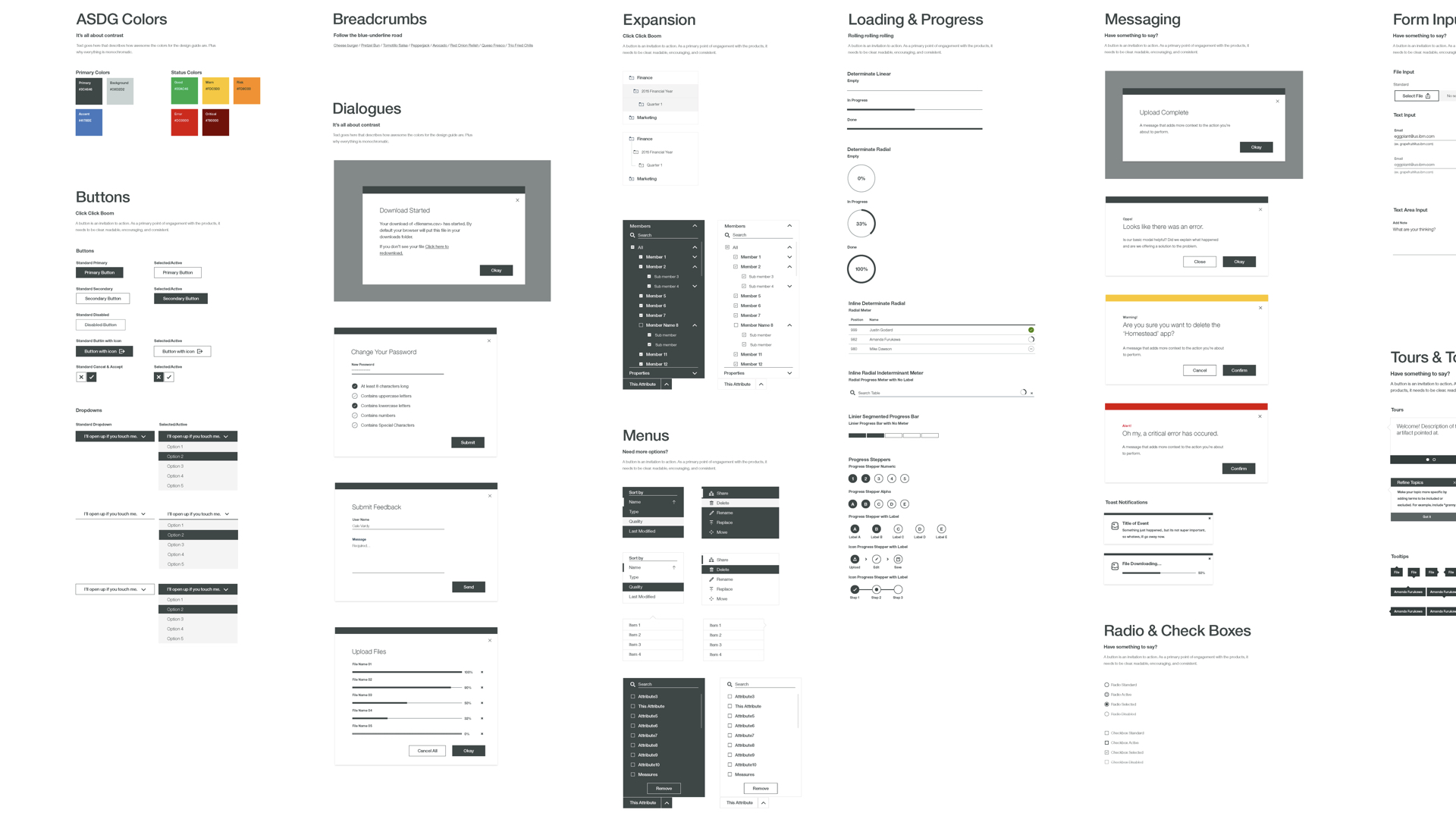 IBM Design website
Of the many responsibilities I had as a Principal, one was working with a small team of talented designers on our external-facing website. Whereas there were many iterations generated this was by far my favorite. Focusing on curated images and color to tell the story and being light on descriptive content resulted in fewer, more targeted statements.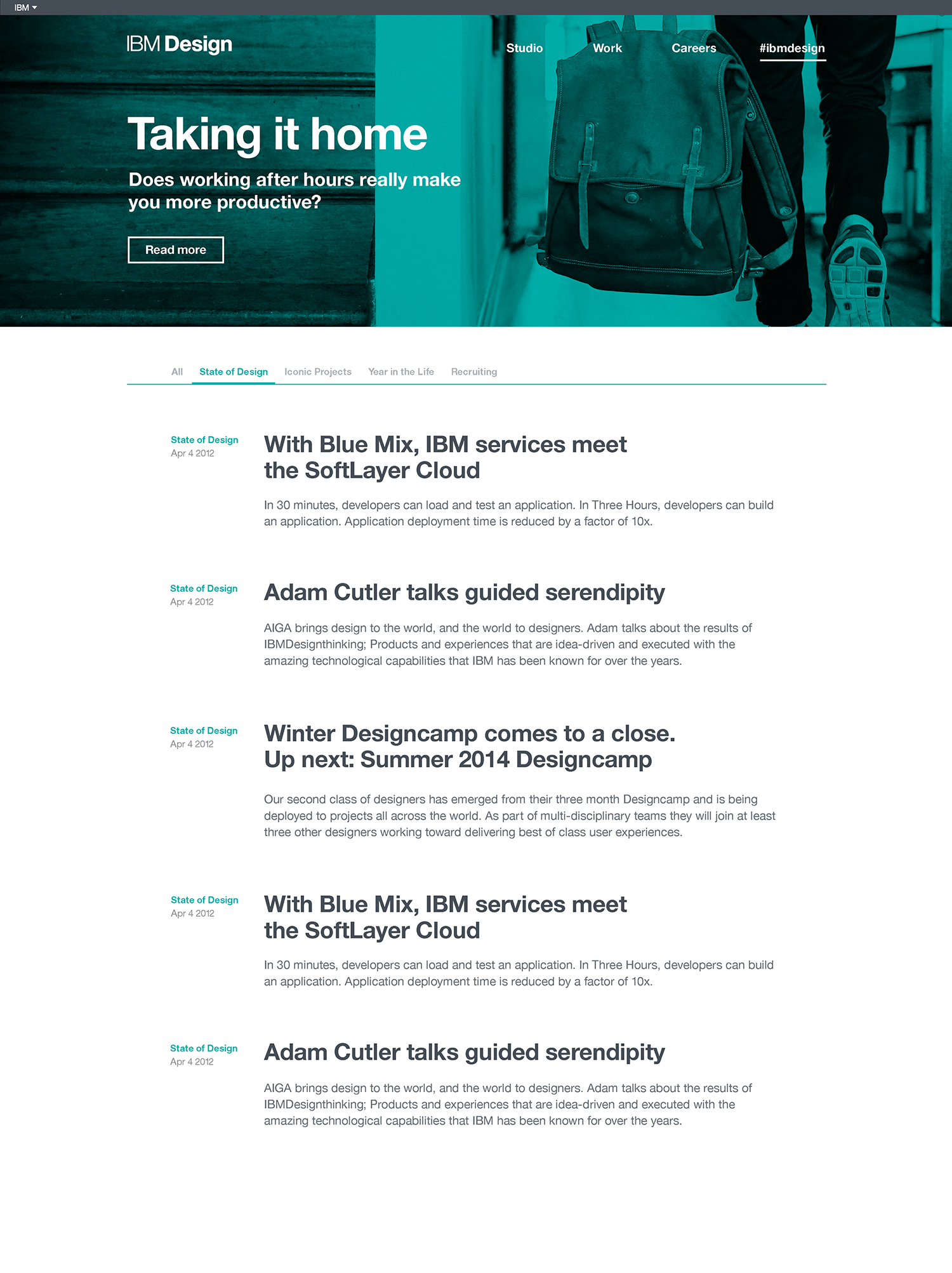 Before I was a Design Director I had many other roles
Over the years I have done Design, Research, and Strategy work both in-house and as a consultant. You can see some examples of work I have either led teams on the delivery of or personally completed over the years. If you are interested in seeing more just email me and we can work something out.
SAMSUNG
The Client Brief showed interest in making 'Pinterest meets Instagram' for their Sketching application, the Samsung sNote. The application remains in production devices that ship with a stylus. Here you can see samples of how I sketched out early stage flows and methods of interaction, leading into more concrete wireframes exploring the balance of Search and Browse experiences.
STATEFARM
A comprehensive Mobile Website Redesign was called for in 2011--it had to share componentry and content with the Mobile application set to launch later in the year. Three concepts were designed and prototyped for testing, each targeted for a specific type of user with different needs, behaviors, and goals. Both Authenticated and Unauthenticated states had to be solved for, alongside Agent locators, Product Landing Pages, and an improved Accident Help experience.

DODGE
The narrative in question was put together around Claire, a not-so-soccer Mom. The goal of was to drive thought leadership via a 'future vision,' 3-5 years out from 2012. This was a Vehicle Ecosystem pitch, a clickthrough of the story of Claire was told through multiple devices. The In-Vehicle interface, mobile consumer application, and service bay enterprise application all worked together to enable an easier, simpler way for Claire to obtain a higher level of customer service. This would have been enabled by a common back end system for vehicle owners and dealership services to coordinate repairs and maintenance--all with a common look and feel, designed for repurpose.
MSA
MSA Safety Incorporated could have been just another pedestrian Hybris/Endecca implementation. By leveraging a mature, simplified approach to the browsing and searching experience the User is able to navigate a complex product catalog with ease and confidence. This took a rich understanding of safety regulation, product lifecycle, and purchase intent. This site, designed by myself and one visual designer, can be seen here.
COVIDIEN
Working with a Resistive, but not Capacitive, screen on a device intended to be used in over 150 countries had it's interaction challenges. This required an interface that was as 'flat' as possible to reduce drilldown menus. Development by offshore engineers required some late nights and significant detail in terms of delivery. I partnered with a visual designer for the icon system but did all of the UX and production work myself.
BELK
As of 2017 Belk remained the nation's largest privately owned mainline department store with more than 300 fashion department stores and sales totaling $3.5 billion. In 2009 I led the largest multi-channel Persona project at Acquity Group, involving several shop-a-longs, in home interviews, and visits at over a dozen stores. This data was combined with online surveys and diary projects to create a truly multi-faceted view of their customer base.
Personas weren't the only deliverable from the project. This engagement extended into Digital Strategy, involving the creation of shopper journeys, affinity maps, and identification of opportunities to act on across both the bricks-and-mortar and online spaces. The results of this project were a clear set of recommendations and next steps that were shared in person with the Belk brothers themselves.
HERMAN MILLER
Throughout my career I have conducted research on Ergonomics and Human Factors for products ranging from office environments and seating to wearable electronics. At both Herman Miller at Motorola I worked on multidisciplinary teams to contribute to several award-winning products. Each required varying degrees of involvement with prototypes at different stages of product development.